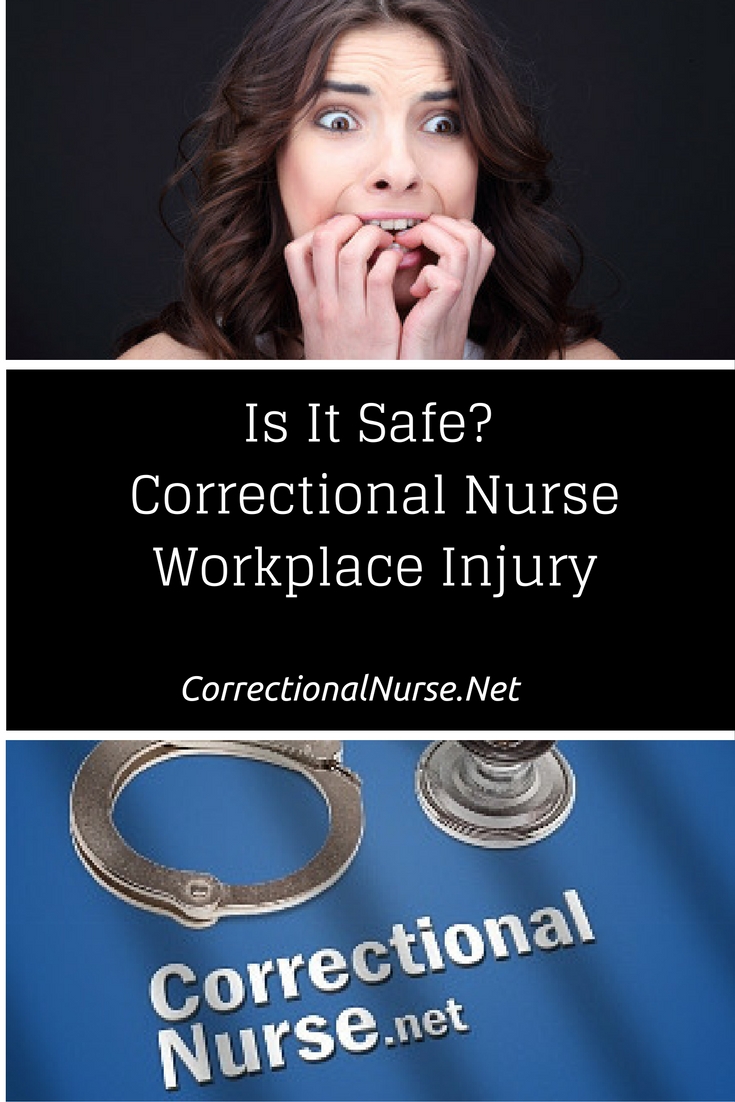 The most frequent question I get asked by nurses considering entering the correctional specialty is "Is it safe?" That's an understandable question as it's hard to imagine how nursing care is provided in a jail or prison and, after all, our patient population can be scary!
Workplace safety is a concern for all nurses and, depending on the specialty, nurses need to be concerned about physical injury such as: needle sticks, contact with harmful chemicals, back injury, and violent patients. The CDC published data on occupational injury for those of us working in health care.
While physical injury may come to mind when first considering workplace safety, mental health safety can also be of concern.  The ANA is now addressing bullying and incivility as a workplace violence issue. Here's my take on these workplace safety issues as they relate to working in the criminal justice system.
Back Injury
According to the most recent data from the Bureau of Labor Statistics, nursing assistants are near the top of the list of those with the highest incidence of work-related musculoskeletal injury; and registered nurses are not far behind. While many traditional health care settings such as hospitals and nursing homes have nursing assistants providing a good bit of the 'heavy lifting', very few correctional settings employ ancillary care staff. Thus, correctional nurses end up moving infirmary patients, assisting with wheelchair transfers, and aiding in 4-man lifts from the yard ground to a stretcher. In addition, housing locations may require nurses to push heavy medication carts across outdoor yards or up slopes to get to an administration point. If medication carts are unable to be taken to an inmate location, such as upper tiers in a housing unit, nurses may need to use back packs or carry medication baskets up steep stairways. Back safety is of paramount importance in correctional nursing practice.
Harmful Chemicals
Many correctional health care settings have challenging space issues. Older facilities were built without attention to health care needs. Indeed, some health care units are converted cell blocks. This can mean haphazard storage and interesting supply space configurations. Combine this environmental situation with the use of inmate porters for general cleaning and you can imagine what can happen. Correctional nurses may come across mislabeled or unlabeled containers of hazardous chemicals. In addition, nurses may work without benefit of onsite pharmacy and may need to handle medications that could be hazardous. Crushing medications, a too-frequent process in correctional facilities, may lead to contact with a harmful substance.
Mental Health
Correctional nurses are at risk of mental distress from patients and colleagues. Disgruntled nurses or disillusioned officers can take out their frustrations on colleagues (that means you!). The correctional environment can often be a place of distrust and cynicism; both leading to incivility or bullying among the staff and patient population. In addition, staff mental health can be jeopardized by compassion fatigue and secondary traumatization when working with this disadvantaged population.
Needle Sticks
Needle stick injuries have decreased since implementation of safety needles in health care. Unfortunately, I still hear of use of needles without safety capping mechanisms in correctional settings. This is against OSHA regulations. Even when needles with safety mechanisms are available, they can be misused or disregarded. Don't do it! Our patient population has high levels of blood borne pathogens. Correctional nurses need to be especially careful with standard precautions and needle safety.
Slips, Trips, Falls
Unsafe walking surfaces are a huge concern in correctional practice. Many nurses must walk distances outside to get to housing units for treatment and medication administration. Weather conditions can cause slick or icy surfaces. Older facilities may have uneven pavement or sidewalks in disrepair. Inmate location may require nurses to manage unwieldy medication carts in these situations. An interesting safety hazard I have seen in many older facilities is the use of fans or space heaters for climate control. These devices are often connected to an outlet that leaves a cord in the walkway; causing a trip hazard. Sturdy footwear and serviceable outerwear are important correctional nursing gear!
Violent Patients
When asking about the safety of being a correctional nurse, most people mean working with our patient population and not the many other safety issues described above. Indeed, personal and professional safety should be on the minds of nurses working with incarcerated patients. However, unlike working in other health care settings, our patients have been classified for level of violence and are attended by officers based on that potential. My most frequent answer to the question of safety is to frankly state "Safer than working in an urban ER. We know who the bad guys are!". A 2014 survey of emergency room nurses published in the Journal of Emergency Nursing found almost a third of respondents had experienced some form of physical abuse by patients and families. Unfortunately, we have no comparison data for nurses working in correctional settings, but my discussion of workplace violence with correctional nurses across the country indicate the rate is much less than one in three.
Is it Safe?
So, is it safe to work as a correctional nurse? With proper awareness of our unique environment and patient population, correctional nursing is as safe as most health care settings; and maybe more safe than some.
What do you think? Is it safe to work as a correctional nurse? What do you tell people who ask you that question? Share your experiences in the comments section of this post. I want to hear from you!