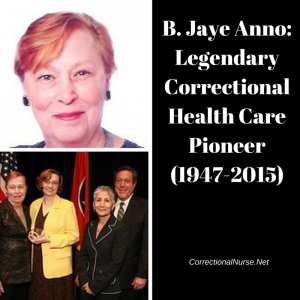 Those of us working in correctional health care owe a debt of gratitude to early leaders who stepped forward to make a difference in the lives and health of our patients just a few short decades ago. One such leader was B. Jaye Anno. I was sad to learn of her unexpected passing on November 3. Although not a nurse, she had been a great inspiration to me in my efforts to encourage professional nursing practice in the criminal justice system.
Like many of us in correctional nursing, her work in correctional health care began accidentally, even incidentally. As she recounts in a short article on Women in Correctional Medicine, she was working as a parole officer in New Jersey in 1972 when she was connected with the American Medical Association (AMA) through her sister who was working there at the time. The AMA was developing a taskforce on health care delivery in US jails and needed an expert on corrections. As she states in the article, "At the tender age of 25, I became the AMA's 'expert' on corrections."
Correctional health care is a relatively new clinical specialty. Unlike many traditional specialties that have decades and even centuries of history, correctional practice is but 40 or so years old. Some point to the 1976 Supreme Court decision on Estelle v. Gamble as the start of the specialty. The decision that withholding medical treatment was a violation of the 8th Amendment to the US Constitution, which forbids the cruel and unusual punishment of prisoners, certainly formed the legal basis for healthcare delivery behind bars.
But no great movement starts by spontaneous generation and, actually, the correctional health care specialty was developing in parallel with Estelle v. Gamble moving through the courts. In the early 1970s both the American Bar Association and the American Medical Association became concerned about health care in the criminal justice system. This was also during a period of prison riots, some with specific healthcare concerns.
Anno was recruited for the AMA taskforce 'by chance' but she took advantage of that opportunity to do good for a large and growing segment of the American population.  After her taskforce work she held the position of director of the correctional health care department of the AMA from 1979 to 1982 and then cofounded the National Commission on Correctional Health Care (NCCHC) in 1983.
Starting as a parole officer and then becoming involved in correctional health care through her AMA work, she obtained an M.A. in Criminal Justice from John Jay College of Criminal Justice, New York City, in 1974 and a Ph.D. in Criminology from the University of Maryland, College Park in 1981. She combined her experience with education as a foundation for her growing impact in the criminal justice system.
Dr. Anno was a prolific writer and was principal author of the major reference book for the field, Correctional Health Care: Guidelines for the Management of an Adequate Delivery System. Written in 2001, this text is still in use today as a primary resource in the specialty. She was a past editor of the Journal of Correctional Health Care and co-edited The Health Status of Soon-to-be-Released Inmates: A Report to Congress (2002) and Addressing the Needs of Elderly, Chronically Ill, and Terminally Ill Inmates (2004). Her work helped me develop a full understanding of the scope of correctional health care issues when I started my 'accidental' journey into correctional nursing in the NJ prison system. Later she was an inspiration for my writing journey.
In 1998 the NCCHC created the Award of Excellence in Correctional Health Care Communication, which was later renamed the B. Jaye Anno Award of Excellence in Communication. I was honored to be the 2013 recipient and first nurse to receive the award. I also found out I was the only woman awardee besides Dr. Anno herself. What a thrill to receive the award directly from this living legend.
The fantastic thing about B. Jaye Anno was how personable and approachable she was. She participated at NCCHC conferences and could be seen in the crowded hallways, just like any 'ordinary' participant. I had several chance conversations with her, including just a couple weeks ago at the 2015 National Conference in Dallas. She was a role model for how to make a difference wherever you have opportunity. I gather that she had little understanding of where her journey in the criminal justice system would lead when she took her NJ parole officer position in her 20s. By leveraging the opportunities placed before her, she is leaving a lasting and significant body of work that has changed the face of correctional health care and affected the practice of every one of us in the specialty.
I hope, like me, the life and accomplishments of B. Jaye Anno are an inspiration to your correctional practice wherever you are working. She truly affected the lives and health of millions of our patients. B. Jaye Anno, you will be greatly missed but your legacy lives on!