I was excited to see my correctional nurse research published in the October, 2015, issue of Journal of Correctional Health Care (JCHC) for several reasons. Of course, it is always professionally fulfilling to see your writing in print; especially in a peer-reviewed scholarly journal such as JCHC. Performing nursing research, in itself, is a rewarding and difficult enterprise, so just completing the study was satisfying. But, the top reason for my pleasure in seeing this research in print is the promise that it might spur meaningful research in our specialty. This is much needed as we move forward to establish professional correctional nursing practice. I encourage you to read the full article, if you are able. However, here is a summary of the key points of the study on correctional nursing research priority.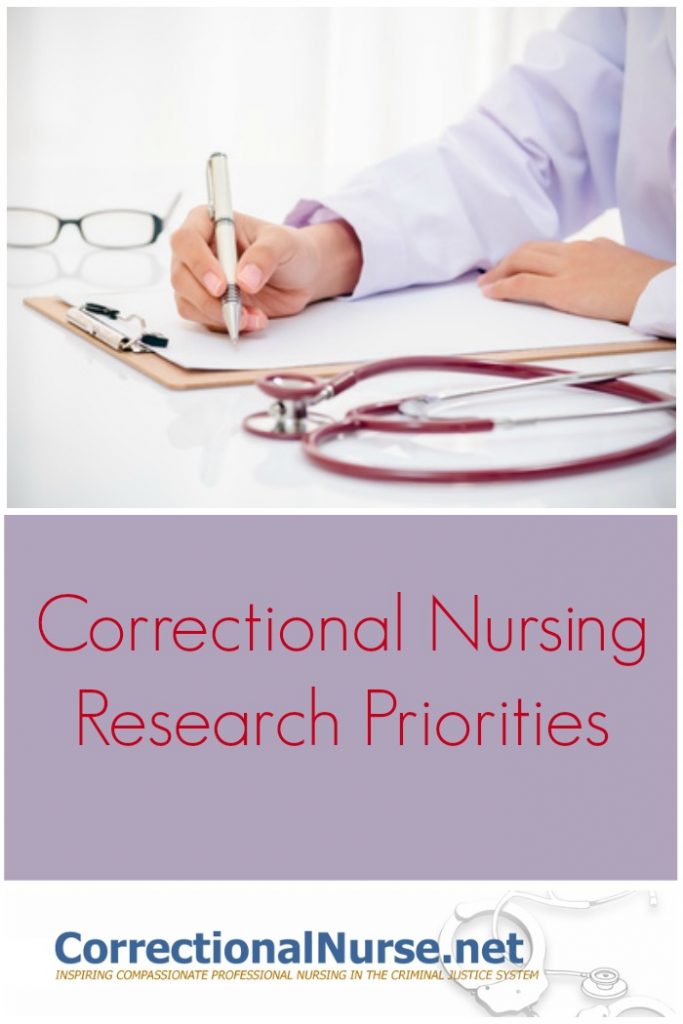 The Delphi Method
The Delphi research method is a survey of expert in a particular discipline. It has been used to determine research priorities in a number of nursing specialties and was familiar to me as I used it to determine research priorities for the nursing staff development specialty many years ago. In the Delphi approach a group of experts in a field of study are asked to list, from their perspective, top priorities for a particular area of study. It could be research or it could be priorities for competencies or even components of a practice guideline or standard of care.
For my study, I put out an email call for participation to a large group of correctional nursing experts I had met in my various activities in the field. Those who responded included their resume to confirm expertise and background. Eighteen experts were included in the Delphi panel.
A three-round Delphi method was used and included these rounds:
The first round asked the question – What are the most significant problems or questions affecting correctional nursing practice that can be solved or answered through nursing research?
The second round had panelists rate the list of research questions obtained from the first round.
The third round allowed panelists to see the second round mean rating of each question and have an opportunity to rate the research questions using that feedback.
Top Correctional Nursing Research Needs
Here are the key areas of correctional nursing research needs as determined by this expert group.
Critical Thinking/Clinical Judgment: How are critical thinking and clinical judgment affected by our unique environment and the particulars of our patient population?
Competency/Educational Level: What are the core competencies for correctional nursing practice?
Assessment: How can nurses rapidly, yet effectively, assess correctional patients?
Nursing Protocols: What are the best formats and methods for nursing protocols that stay within scope of practice?
Effect on Patient Outcomes: What are correctional nurse-sensitive patient outcomes?
Environment of Care: In what ways does the care environment affect correctional nursing practice?
Now What?
How can this study be used to increase correctional nursing research? Here are some ideas.
Determine the theme of a thesis or dissertation when pursuing an advanced degree.
Determine areas for best practice development for a site or correctional system.
Establish research topics for a grant proposal.
Gather a collaborative group across systems to pursue an understanding of one of the themes.
Topics for conference presentations.
Topics for journal manuscripts.
So what do you think? Are there other ways to apply correctional nursing research priorities? Share your ideas in the comments section of this post.
If you like this this post, you might like:
Book Review – Correctional Health Care: Practice, Administration, and Law
Ten Reasons Correctional Nursing May Not Be Right for You
When You Work the Holiday in the Criminal Justice System
B. Jaye Anno: Legendary Correctional Health Care Pioneer (1947 -2015)