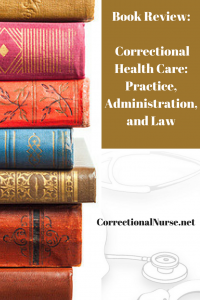 Another helpful correctional health care book was published this year. While definitely not beach reading, I have been digging into the various chapters over the last month and wanted to share my findings. Correctional Health Care: Practice, Administration, and Law was edited by Fred Cohen,  a  recognized expert in correctional law. Fred recruited chapter authors who are also experts in the specialty. With 19 chapters and over 400 pages packed with information, it will be a challenge to share all the highlights. Each chapter could fill a blog post, so, reviewing the entire book in a single post leaves room for only a few sentences a piece.
The Legal Framework for Correctional Health Care
As a first chapter, this information sets a foundation for the remaining ones. Fred Cohen addresses all key legal issues including isolation, restraints, and even healthcare copayment.
The Present and the Future of Correctional Health and Mental Health Care
Chapter author Steven Rosenberg looks to the future of correctional health care through the Triple Aim lens of improving the patient experience, improving the health of populations, and reducing the per capita cost of health care.
Ethical Dilemmas in Correctional Health Care
Chapter author T. Howard Stone captures some interesting ethical dilemmas in correctional practice such as the vulnerable nature of prisoners and the need to respect patient autonomy.
Clinical Framework for the Treatment Relationship with Mentally Disabled Inmates
Following three chapters covering issues of general interest for correctional health care providers, chapter author James Knoll provides focused information for mental health providers about treatment relationships with the mentally ill. Of interest to all disciplines are discussions of psychopathy and malingering.
Epidemiology, Detection, and Management of Infectious Diseases in Health Care
Drs. Luffy, Lemon, and Spaulding cover primary infectious diseases including an excellent section on HCV controversies.
This short chapter by David Thomas focuses on the administrative issues of managing a chronic care clinic.
Clinical Management of Chronic Obstructive Pulmonary Disease
It is unclear why this chapter is included in the text. While COPD is a chronic illness of some import in this patient population, the chapter is not specific to management in the correctional setting. In addition, no other specific chronic condition is awarded a chapter.
The Organization of a Correctional Dental Health Program
Drs. Shulman, Makrides, and Lockhart provide excellent information for developing and running a correctional dental program.
Examining Critical Health Issues for Aging Prisoners
This chapter by Ronald Aday is a bright spot in the text.  Current concerns for the aging inmate patient including functional health status and housing issues are discussed.
The Health and Mental Health Needs of Incarcerated Women
Another special population, incarcerated women, is discussed by chapter authors Rose, LeBel, and Blakey. Recommendations include linking health care to outside resources, screening all women for mental health concerns, and increasing substance use treatment.
Coordinating Physical and Mental Health Care – Why? Why Now? How?
I really enjoyed this chapter. Coordinating care among the physical and mental health disciplines is a must but I see fragmentation and silo management in many settings I visit. Chapter author Burns gives suggestions for improvement including Top-down, Bottom-up, and In-between coordination options.
Correctional Psychotropic Medication Formularies
Burns continues to write in this chapter focused on psychotropic formularies. It is a good review of psychotropic issues in corrections.
Work Environments That Support Professional Nursing
Authors Knox and Pinney provide the only nurse-focused chapter in the book. The chapter provides all the necessary information to create an enriched work environment to encourage professional nursing practice in the specialty.
Electronic Health Records in a Correctional Setting – The Why and How of Investing in People Through Technology
Authors Hudson and Clayton provide a practical guide for procuring and implementing an electronic health record in a correctional setting, using their experience at the Ohio prison system as an example. Clayton is the only other nurse author in this book.
Structure and Administration of a Jail Medical Program
Dr. Goldenson lays out the skeleton for a correctional program that includes all important considerations. This is an excellent chapter for those new to correctional health care; both clinicians and jail administrative staff.
The Case for Correctional Health Care Privatization
Privatization is demonized in many sectors. Author May lays out the positive aspects of outsourcing correctional health care.
Introduction to Quality Improvement
QI is a challenge for many correctional health care administrators. Authors Ducote and Rieger attempt to correct this. Would have liked more information on root cause analysis in this chapter.
Malingering in a Correctional Setting
Authors Scott and McDermott clarify the mental health diagnosis of malingering including underlying causes. Helpful assessment and documentation tips are provided.
HITECH Act and the ACA – Unknown Opportunities for Correctional Providers
Tech geeks will love this chapter; especially those looking for funding. All others may find this information full of acronyms and legislative jargon. Author Butler has some good correctional implementation examples.
Summary
The information in this book is outstanding and the chapter authors are exceptional. The book, however, seems to lack logic and organization. My first question comes with the book title. Why the particular order of practice, administration, and law? My methodical mind wishes to reorder the list alphabetically (Administration, Practice, and Law) or by order of importance in the book (Law, Administration, and Practice).
The lack of logical progression continues in the chapter order. While the information in each chapter is worthwhile, this book reads like a hodge-podge of various topics of current interest in correctional practice. The order of presentation is befuddling. For example, why would a chapter on malingering come at the end of the book between an introductory chapter on quality improvement and a chapter on how to become eligible for Meaningful Use funding and enrolling as a Medicaid provider?
Likewise, the depth of information in each chapter is uneven with some chapters going deep into the issue (7) while others providing a high-level overview (6).
Reading the editor's introduction for an explanation, I discovered this statement: "What follows is, we believe, a wonderful, perhaps idiosyncratic, series of chapters dealing with some of the most significant issues in correctional health care." This somewhat explains the randomness of chapter order and content.
In addition, with practice in the title, I expected more from correctional nurses and more practice concerns discussed.
However, getting beyond the organizational issues, this book can be a good resource for correctional health service administrators.
Finally, as with another correctional health care book I recently reviewed, this book can be cost prohibitive for the individual reader at $135.95. Possibly the unit budget will allow for a library copy.
Correctional Health Care: Practice, Administration, and Law is published by Civic Research Institute, Kingston, NJ and is available directly from the publisher.