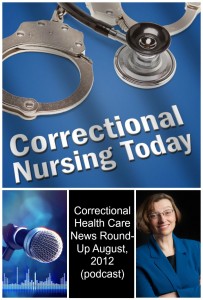 Sue Smith and Jane Grametbaur join Lorry to talk about news items involving pregnancy care in a correctional setting. The first news headline reads: Premature Birth in TX Jail. Dawson State Jail is a 2000 inmate facility in Dallas Texas. Most of the inmates are female. A premature birth took place in one of the cells. The inmate's family say the woman's requests for a pregnancy test and then for medical assistance when she started cramping and bleeding were disregarded. The baby was 26 weeks and lived 4 days. The news report suggested that the state should have a requirement for medical staff around the clock in the facility.
A similar story comes from the Atlanta Constitution. Clayton County Jail is located near Atlanta and also houses around 2000 inmates, mostly male. A 5 month pregnant inmate delivered prematurely after complaining of nausea and stomach pain. The baby died 75 minutes later. This story focuses on the need for state jail standards for prenatal care.
Between 6-10% of women are pregnant when they enter the criminal justice system. Yet, some jails, like the ones mentioned in these stories, don't seem to perform pregnancy tests on women on intake. Our next news item is a committee opinion from the American College of Obstetricians and Gynecologists. ACOG's Committee on Health Care for Underserved Women has published, this month, an opinion on Reproductive Health Care for Incarcerated Women and Adolescent Females. One recommendation is pregnancy testing on admission.
ACOG's opinion included adolescent girls. The University of California at San Francisco's Global Health Sciences Division recently published a student policy brief calling for national pregnancy care standards in juvenile detention centers. The brief cites a 1995 study of 261 juvenile detention and long-term correctional facilities that reported about a third did not provide prenatal services and 70% did not provide parenting classes. Sixty percent of facilities reported an obstetric complication at least once in their facility.
Our last item is really a resource on pregnancy related health care in prisons. The ACLU has a website that provides links to a variety of information sites about various state DOC policy and laws. Since they document their references, it looks like a good resource.