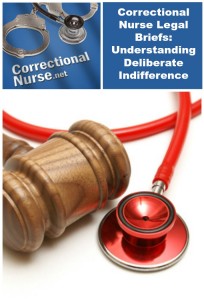 Inmate Barto is suing the medical director and nurses at your jail facility for not treating his leg ulcer that later developed osteomyelitis after release. He is charging deliberate indifference to his condition. While being confined to the jail for 10 days he did not mention the leg ulcer to any medical staff and left the facility before the required 14 day physical assessment. Does he have a case?
Unlike the majority of other nursing specialties, correctional nursing practice has been molded by the legal system. A body of judgments and class action cases has grown over the last four decades with escalation following the Supreme Court decision on Estelle vs. Gamble in 1976. Texas prisoner J. W. Gamble injured his back working on the prison farm. He contended he was not given medical treatment and even punished for his inability to work. His suit was against W. J. Estelle, then the director of the state department of corrections. The case moved through the lower courts and came before the Supreme Court where it was judged a violation of the Eighth Amendment's prohibition of 'cruel and unusual punishment' to not provide necessary health care to prisoners. This court decision established the standard of 'deliberate indifference to serious medical needs' as a breach of the Eighth Amendment.
Deliberate Indifference
The term deliberate indifference seems almost an oxymoron. Can you really be deliberately indifferent to something? This created phrase, however, is in standard usage in correctional healthcare and needs understood as it relates to nursing practice. Deliberate Indifference defined: When a professional knows of, and disregards, an inmate's serious medical need.
Components of deliberate indifference:
• There must be a serious medical need
• Staff must know about the serious need
• Staff must intentionally and deliberately fail to provide required treatment for that need
• This failure to treat caused the inmate unneeded pain or suffering or similar harm
In the case above, staff were not aware of the leg ulcer while Mr. Brown was in custody and there is no indication that staff deliberately or intentionally refused to treat his condition. It is unlikely that his case will prevail.
Serious Medical Need
This phrase in the court decision also need consideration. A serious medical need Is one that, if left untreated, has a risk of serious harm to the patient and can be one of two categories:
• Diagnosed by a physician as requiring treatment
• Is a need so obvious that even a lay person would know it needed medical attention
Again, the case above does not meet either of the standards for serious medical need. Claims of this type are more common than you might think in our particular clinical specialty. Have you been named in a correctional lawsuit of this type? Most are brought by the inmate without legal counsel and are referred to as 'pro se' cases.
Some information in this post was obtained from a presentation by Stacy M. Blackman, Esq., Chief Legal Officer, CorrectHealth Companies, during a session of the 2012 ACHSA conference in San Antonio, TX.
Photo Credit: © Matthew Benoit – Fotolia.com