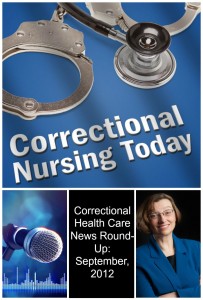 The September 2012 news round up with panelists Sue Smith and Denise Rahaman discusses correctional news involving professional nursing practice issues.
Nursing Competency
Our first story is about correctional nursing competency development and comes to us from Connecticut. The prison system has received a substantial grant to create a mobile competency program for correctional nurses working in their prison system. I think this is a wonderful innovation and was delighted to see this in the news. As a correctional nurse educator I had responsibility for nurse competency in the 14 NJ prisons and it was a daunting task. As an educator in critical care in the past, all my nurses were close by. A prison system is very spread out. A van would have been wonderful….although I would have had to hire a driver for the NJ turnpike.
Professional Practice – Insulin Administration
Speaking of competency, we have some nurse competency issued emerge and make the news from the Arizona prison system. According to the news account a nurse administered a routine dose of insulin to a diabetic inmate who was also had Hepatitis C. The needle used on that inmate was inserted into another vial to draw more insulin for the same inmate, so the contaminated needle was inserted into a vial that then got placed back into circulation to be used for other inmates – more than 100 others.
Professional Boundaries
This next story is so disturbing, I almost didn't include it but there is so much here to talk about I decided to use it after all. This story comes to us from the UK where a correctional nurse is on trial for misconduct in public office. Their nurse manager is accused of a sexual relationship with a convicted rapist and her coworkers are accused of aiding illegal acts by not reporting or stopping them. The prison website describes the facility as a high security center with the focus on serious sex offenders. The average prison roll is approximately 740.
Passing of Correctional Health Care Legend
Our last story is a sad one, the passing of Dr. Joseph Paris of Marietta, GA in early October. He was a correctional health care legend and those of us in the corrections community remember him from his publications and speaking at various conferences. From his obituary, I see that he was a founding member of the Society of Correctional Physicians and served as president of the Florida Chapter of the ACHSA, among many other accomplishments. I remember him as a kind and generous man.