I was driving home one hot summer day after a long shift where nothing went right. I was tired, irritated and frustrated with traffic. I switched on the radio and Seals & Croft sang out about a Summer Breeze rolling through the jasmine and suddenly memories of a wonderful summer day of long ago flooded my mind. In an instant the terrible day was behind me and my mind was peaceful. Have you had an experience like that?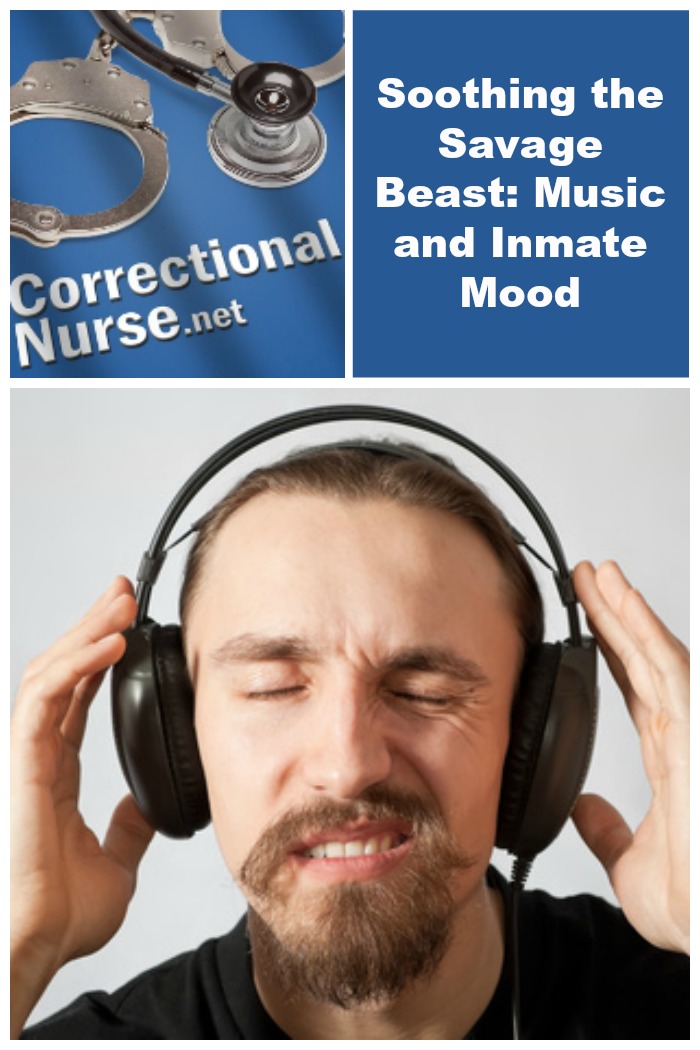 Researchers have found that music lowers anxiety and improves the mood on a variety of patient groups including cancer and surgical patients. A Cochrane Systematic Review of 51 studies found music to be helpful in reducing pain. This got me wondering about the use of music for our inmate patient population. Could music help reduce aggression and anxiety behind bars?
Earlier this year the federal prison system began allowing MP3 players with a limited music list available to inmates through the commissary. This is a great idea and I hope the health care staff uses this music option for therapeutic purposes. Here are a few thoughts I have for incorporating music into correctional nursing practice.
• Ask the patient what type of music they enjoy when trying to relax. Help them create a 5-10 song playlist.
• Recommend music with a beat at the same speed as the target heart rate. In other words, a slower beat for calming anxiety or promoting sleep. Here is a peaceful playlist option.
• Avoid music with lyrics if encouraging meditation, sleep or anxiety reduction. Classical music such as Beethoven or Chopin can be helpful to encourage peacefulness.
• Livelier music can encourage joyfulness and energy, but avoid a fast driving beat and heavy base.
• Suggest songs with lyrics that are positive and uplifting to help with motivation. Here is a list created on Spotify.
Do you think music therapy could work in your correctional setting? Have you tried it? Share your thoughts and stories with the correctionalnurse.net community.
Photo Credit: © sinelyov – Fotolia.com