Pediculosis (ie, louse infestation) dates back to prehistory. The oldest known fossils of louse eggs (ie, nits) are approximately 10,000 years old. Louse infestation remains a major problem throughout the world, making the diagnosis and treatment of louse infestation a common task in general medical practice. Pediculosis capitis results in significant psychological stress in children and adults and missed schooldays in children, particularly in areas with a no-nit policy.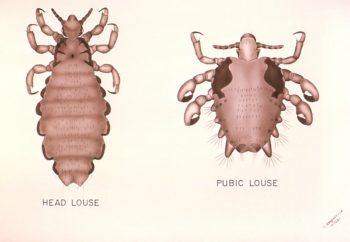 Lice are ectoparasites that live on the body. Lice feed on human blood after piercing the skin and injecting saliva, which may cause pruritus due to an allergic reaction. Lice cannot fly or jump – they crawl. A mature female head louse lays 3-6 eggs, also called nits, per day. Nits are white and less than 1 mm long. Nymphs (immature lice) hatch from the nits after 8-9 days, reach maturity in 9-12 days, and live as adults for about 30 days.
Different species of lice prefer to feed on certain locations on the body of the host. Louse species include Pediculus capitis (head lice), Pediculus corporis (body lice), and Pthirus pubis (pubic lice, sometimes called "crabs"). The head louse, Pediculus humanus capitis, has an elongated body and narrow anterior mouthparts. Body lice look similar but lay their eggs (nits) on clothing fibers instead of hair fibers. The pubic louse, Pthirus pubis, is identified by its wide crablike body. Lice move from person to person through close physical contact. It is uncommon that contact with fomites (eg, combs, brushes, clothes, hats, scarves, coats, linens) used by an infested person can spread the infestation. Overcrowding encourages the spread of lice.
Presentation
Patients may come to the attention of a health care provider after discovering lice or nits. Pruritus is the most common symptom of infestation. Patients may have trouble sleeping because of intense pruritus at night. Areas affected in head louse infestation include the scalp, the back of the neck, and post-auricular areas. Scratching can cause secondary bacterial infection. However, lice infestation may be asymptomatic, particularly if it is the first infestation and if the infestation is light.
Patients infested with P corporis experience nocturnal pruritus, particularly in the axillary, truncal, and groin regions, when the lice move from the clothing to the body to feed.
Adults infested with P pubis are usually sexually active and have groin and body hair involvement. Involvement with pruritus of the groin, axillae, eyelashes, or eyebrows can help differentiate P pubis infestation from head or body louse infestation. Patients may describe associated features such as papules or wheals, indicating bite reactions.
Physical Examination
A diagnosis of any type of pediculosis rests on the observation of eggs (nits), nymphs, or mature lice. Definitive diagnosis of active infestation requires detection of live lice. Nits are not diagnostic of an active infestation; however, if they are within 6 mm of the scalp, active infestation is probable. Viable nits may be found 8 or more inches from the scalp in warm climates. Nymphs and mature lice, although unable to hop or jump, can move rapidly (up to 23 cm/min) through dry hair. Wetting the hair and using a fine-tooth "bug-busting" comb is useful to dislodge eggs and to remove live lice/nymphs. The use of a magnifying glass and knowing where to look for lice (based on the biology of each species) assists in the diagnosis.
PATHOPHYSIOLOGY
Lice are blood-sucking insects. Human lice have small anterior mouthparts with 6 hooklets that aid their attachment to human skin during feeding. The sucking mouthparts retract into the head when the lice are not feeding. In general, lice feed approximately 5 times per day. In each species, the female louse is slightly larger than her male counterpart.
The 3 types of human lice include the head louse (Pediculus humanus capitis), the body louse (Pediculus humanus corporis), and the crab louse (Pthirus pubis). Body lice infest clothing, laying their eggs on fibers in the fabric seams. Head and pubic lice infest hair, laying their eggs at the base of hair fibers. Head and body lice are similarly shaped, but the head louse is smaller. Nevertheless, the 2 species can interbreed. The pubic louse, or "crab," is morphologically distinct from the other two.
Pediculus humanus capitis
The head louse is the most common of the 3 species. The average length of the head louse is 1-2 mm. Female head lice are generally larger than males. The louse is wingless and white to gray and has a long, dorsoventrally flattened, segmented abdomen. It has pairs of clawed legs. Its average life span is 30 days. The head louse, Pediculus humanus capitis, has an elongated body and narrow anterior mouthparts. Body lice look similar but lay their eggs (nits) on clothing fibers instead of hair fibers.
The adult female louse lays eggs, called nits, and glues them at the base of the hair shaft. Nits are placed within 1-2 mm of the scalp, where the temperature is optimal for incubation. The female head louse lays as many as 10 eggs per 24 hours, usually at night. Egg and glue extrusion onto the hair shaft takes 16 seconds. Nits are typically located at the posterior hairline and postauricular areas. Nits hatch in about 8-9 days if they are kept near body temperature and mature in another 9-12 days. Nits can survive for up to 10 days away from the human host. Cooler temperatures retard both hatching and maturation. The nymph molts three times before reaching its adult form. The adult head louse survives only 1-2 days away from its host. Head louse infestation is spread by close physical contact and occasionally by shared fomites (eg, combs, brushes, hats, scarves, bedding). Lice can be dislodged by combs, towels, and air movement (including hair dryers in either low or high setting). Hair combing and sweater removal may eject adult lice more than 1 meter from infested scalps. Head lice can travel up to 23 cm/min. The head louse has difficulty attaching firmly to smooth surfaces (eg, glass, metal, plastic, synthetic leathers).
Pediculus humanus corporis
The body louse is larger than the head louse. Body lice range in size from 2-4 mm. Female lice are larger than male lice. Like the head louse, the body louse is flat and white to gray with a segmented abdomen.
Unlike the head louse and the pubic louse, the body louse does not live on the human body. P humanus corporis prefers cooler temperatures; it lives in human clothing, crawling onto the body only to feed, predominantly at night. Females lay 10-15 eggs per day on the fibers of clothing, mainly close to the seams. Adult body lice can live up to 30 days but die within 1-2 days when away from the host and without blood meals. On average, no more than 10 adult female lice can be found on a person with an infestation, although a thousand have been removed from the clothes on a single infested individual. Body lice are spread through contact with clothing, bedding, or towels that have been in contact with an infested individual, or through direct physical contact with a person who is infested with body lice.
Pthirus pubis
The pubic louse gets the nickname of "crab" from its short, broad body (0.8-1.2 mm) and large front claws, which give it a crab-like appearance. The pubic louse is white to gray and oval and has a smaller abdomen than both P humanus capitis and P humanus corporis. Pubic lice live for approximately two weeks, during which time the females lay 1-2 eggs per day. Nymphs emerge from the eggs after one week and then mature into adults over the subsequent two weeks. Their large claws enable pubic lice to grasp the coarser pubic hairs in the groin, perianal, and axillary areas. Heavy infestation with P pubis can also involve the eyelashes, eyebrows, facial hair, axillary hair, and, occasionally, the periphery of the scalp. Pubic lice are less mobile than P humanus and P corporis, mainly resting while attached to human hairs. They can crawl up to 10 cm/day. They cannot survive off the human host for more than one day.
Nits
The average nit (ie, ovum) of the 3 types of lice is 0.8 mm long. The nit (see the images below) attaches to the base of the hair shaft (in the case of head or pubic lice) or to fibers of clothing (in the case of body lice) with a strong, highly insoluble cement; thus, nits are difficult to remove. The nit is topped with a tough but porous cap known as the operculum. This porous operculum allows for gas exchange while the nymph develops in the casing. The ova require optimum conditions of 30°C and 70% humidity to hatch within the average time frame of 8-10 days; the incubation period is longer at lower temperatures. Ova do not hatch at temperatures lower than 22°C but can remain alive for as long as 1 month away from the body (ie, on fomites, clothing, brushes). Head lice are not vectors for other organisms that cause disease. Pubic louse infestation is usually spread as a sexually transmitted disease (STD). Thirty percent of infested individuals may have other concurrent STDs (eg, HIV infection, syphilis, gonorrhea, chlamydia, herpes, genital warts). The body louse can be the vector of R prowazeki, which causes typhus; B quintana, which causes trench fever; and B recurrentis, which causes relapsing fever.
In our previous post, we discussed the scabies ectoparasite, and in our third post of this Ectoparasite series, the potential treatment for ectoparasites and patient education for the patient with an ectoparasite infection will be discussed.
**This Ectoparasite series is based upon The Correctional Nurse Educator class, Ectoparasites in the Correctional Environment.
Please share your challenges with the care of patients with an ectoparasite infestation in the comments section below.