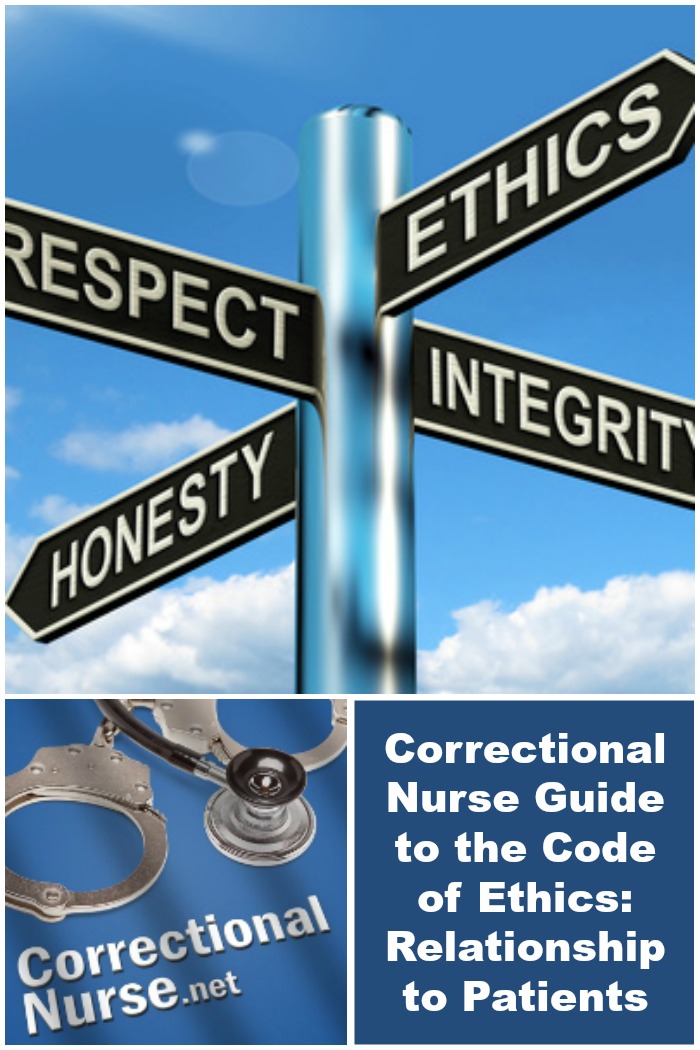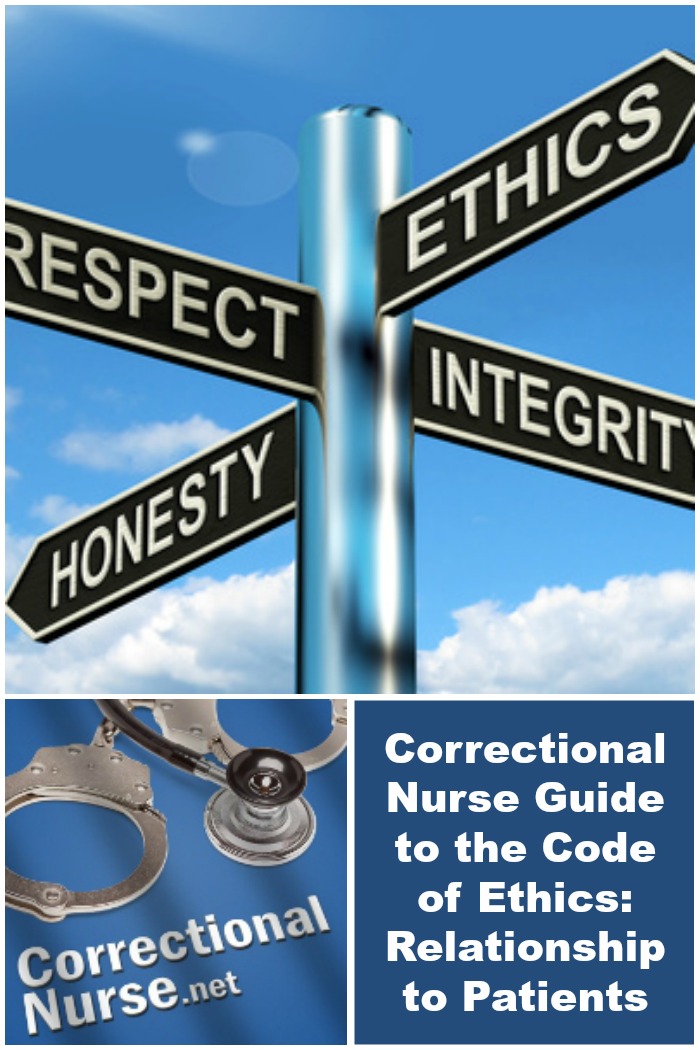 Jason has been working intake screening at a county jail for over a year now. He has seen some unusual conditions and participated in many an emergency situation, especially when he is on night shift. This Saturday night is uneventful and he finds himself, once again, performing an intake screening on a homeless man who was picked up on a street sweep. This gentleman is unkempt and has a strong body odor. Jason finds it hard to keep from covering his nose as the man shuffles into the screening room. Already familiar with his medical history from prior frequent detainments, Jason rushes through the screening questions making no eye contact.
Code of Ethics Proposition 1: The nurse, in all professional relationships, practices with compassion and respect for the inherent dignity, worth and uniqueness of every individual, unrestricted by considerations of social or economic status, personal attributes, or the nature of health problems.
More than the Tasks
Most correctional nurses have experienced Jason's situation. He did his job according to protocol and adequately screened this man for medical conditions that need attention. But, has Jason provided ethical nursing care? Provision 1 of the Code proposes that we provide compassionate and respectful care to all patients; a difficult matter in many correctional nursing patient encounters. Without continual attention to our ethical grounding, we can easily drift into disrespectful practices with our patients.
Three Choices
In discussing the application of Provision 1 in the Guide to the Code of Ethics for Nurses, Taylor suggests that we have three choices in how we interact in every patient encounter we have.
1) Go Away: Unfortunately, this may be the message Jason was sending that Saturday night by his body language, facial expression, and lack of eye contact. The 'Go Away' message shouts to our patients that we do not care about them as a fellow human in need and we don't think they are worthy of our care and attention.
2) You are an Object: We treat our patients as objects when we strip them of their humanity. This can happen both intentionally and unintentionally. How many patients have become the "Broken Leg" in Cell 2 or the "Rule Out TB" in Cell 5 of the Infirmary? Dehumanization is rampant in our institutions as incarceration can lead to individuals becoming ID numbers or classification status's. Nurses working in the criminal justice system struggle to maintain equilibrium in the midst of the pull to objectify the patient population.
3) I Care About You: Of course, the ideal patient-focused encounter in our nursing practice is to convey the message of care. This message can be as simple as making eye contact and listening to what the patient is saying. In a correctional setting, it is often conveyed by taking the patient's concern seriously and following through on treatment actions.
How to Show You Care in Corrections
Correctional nurses can feel wedged between a rock and a hard place when it comes to showing care for patients. Compassion and respect may not be valued commodities in many correctional settings. Caring behaviors common in other health care settings, such as hand holding or shoulder squeezing can be misinterpreted by our patient population. Jean Watson, a nurse theorist who has focused on caring, suggests some objective way to care as nurses that can easily be implemented in the criminal justice system:
Sustain eye contact during patient interactions
Verbally respond to an expressed concern
Explain procedures before initiating them
Verbally validate a patient's emotional status
Discuss topics of concern to a patient other than the current health problem
Jason was not practicing up to Code in his patient encounter that Saturday night, even though he performed all the necessary tasks. The Code of Ethics for Nurses provides guidance for ethical practice that helps us find our way in the criminal justice system.
How to you focus on relationship with your patient population? Share your thoughts in the comment section of this post.
Photo Credit: © Stuart Miles – Fotolia.com