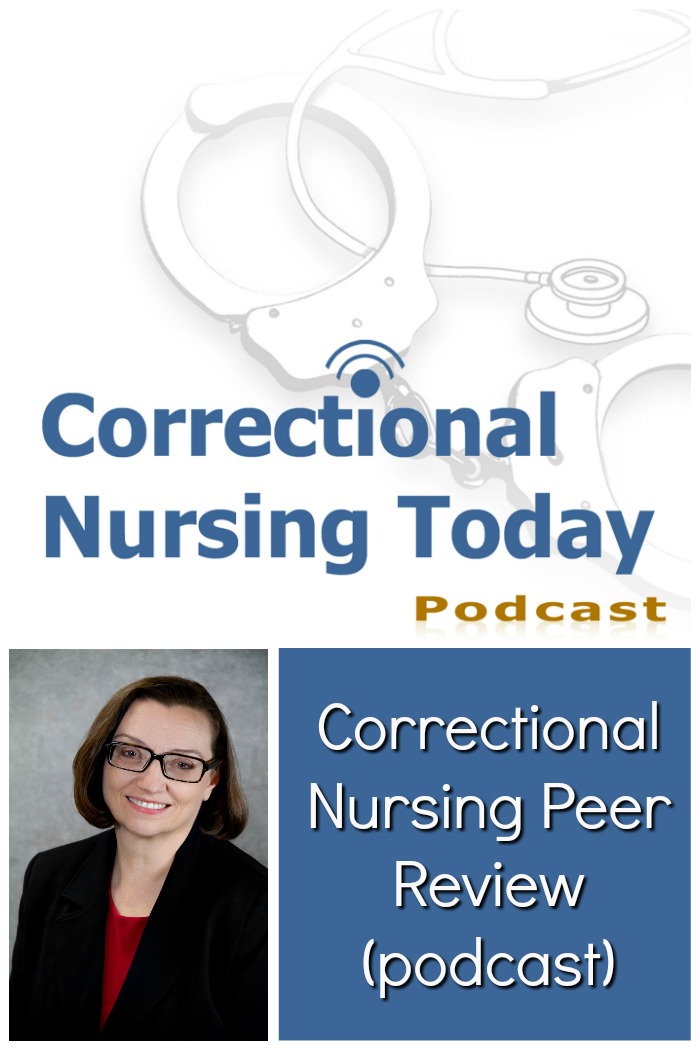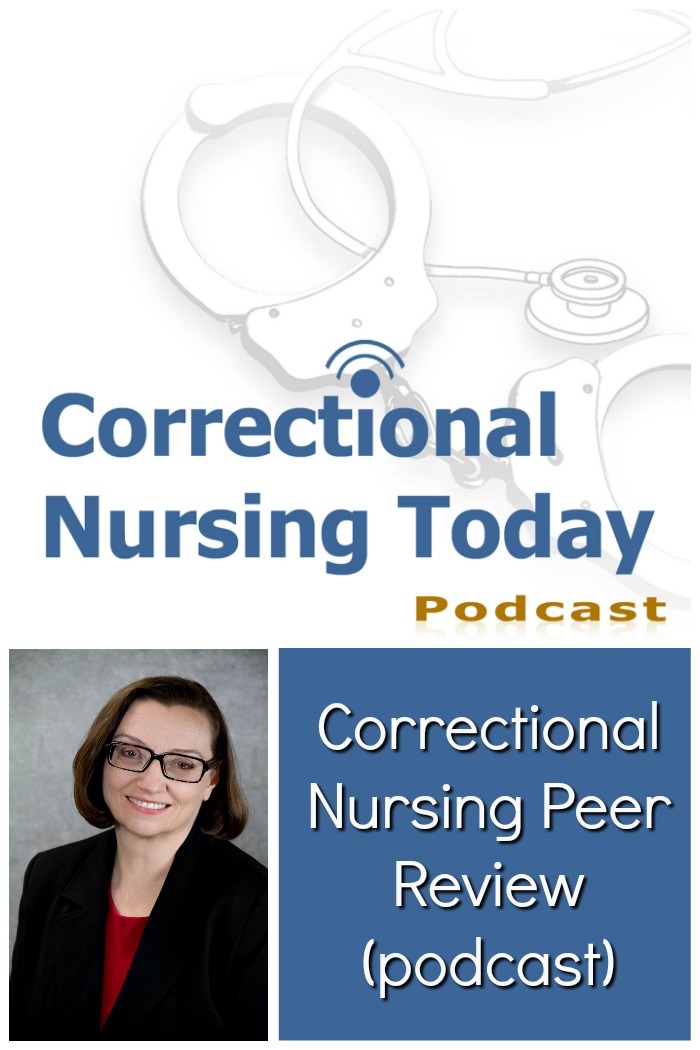 Peer Review for Nurses? Many correctional health care settings are gearing up for correctional nursing peer review as NCCHC implements new accreditation standards this month. In this episode correctional nurse experts Catherine Knox, Kathy Page, Becky Pinney, and Pat Voermans join Lorry to discuss correctional nursing peer review and changes in the NCCHC accreditation standards for standard C-02 – Performance Enhancement.
The performance enhancement standard has been around for many years and focused on peer review for medical providers. This latest revision now includes all licensed staff; thus adding RN and LPN team members to the peer review process.
Panelists discuss the importance of this change for correctional nurses and nurse leaders. They also dispel some common misconceptions about nursing peer review; differentiating peer review from annual performance review and competency evaluation. Practical ways to perform nursing peer review are also described.
A series of blog posts about correctional nursing peer review can be found on the Essentials of Correctional Nursing blog.
In The Nursing News
Lots in the news about the Ebola virus hitting US soil. Since much is still unknown about the virus and no vaccine or medication treatment is yet available, it is important to be careful around anyone who may be infected. Nurses, in particular, spend time in close contact with patients so we need to know about transmission and protection. On October 15 the CDC increased their caregiver protection barriers to more closely match World Health Organization recommendations. Standard precautions for droplet and body fluid contamination were enhanced with double gloving and full body coverage, including head and neck. Important points:
Ebola has been detected in blood and many body fluids. Body fluids include saliva, mucus, vomit, feces, sweat, tears, breast milk, urine, and semen.
The virus is spread by direct contact; meaning that body fluids (blood, saliva, mucus, vomit, urine, or feces) from an infected person (alive or dead) have touched someone's eyes, nose, or mouth or an open cut, wound, or abrasion.
Ebola is killed with hospital-grade disinfectants (such as household bleach). Ebola on dried on surfaces such as doorknobs and countertops can survive for several hours; however, virus in body fluids (such as blood) can survive up to several days at room temperature.
Although coughing and sneezing are not common symptoms of Ebola, if a symptomatic patient with Ebola coughs or sneezes on someone, and saliva or mucus come into contact with that person's eyes, nose or mouth, these fluids may transmit the disease.
Would your health care unit have the equipment necessary to protect you should you need to isolate a patient for evaluation for Ebola infection? Think about this now and have the conversation. Be prepared.
Men with Osteoporosis are Neglected
The International Osteoporosis Foundation has published a report on osteoporosis in men. Although we tend to think about osteoporosis as an elderly female condition, a third of all hip fractures occur in men. Men are prone to brittle bones as they age; particularly after the age of 70 when testosterone reduces significantly. Other factors contributing to osteoporosis in men include smoking, drinking more than 2 drinks per day, low vitamin D levels, a family history and taking certain medication such as cortisone, antiepileptic drugs and SSRI antidepressives. If you care for elderly male inmates, consider osteoporosis and concern for falls.
USPSTF: Screen Everyone 45 and Older for Abnormal Glucose
The US Preventive Services Task Force drafted new diabetes screening guidelines recommending that everyone 45 years and older should be screened for abnormal blood glucose and type 2 diabetes. They hope to identify those with abnormal glucose levels to initiate lifestyle interventions before the condition progresses to diabetes. The guidelines are open for comment until early November, 2014.
Patients Listen More to Female Doctors
An interesting French study suggests that patients heed guidance more regularly from female providers than from male. The study design hypothesized that patients would listen more to a physician of the same gender but it turns out that both male and female patients were more disposed to listen to a female physician. Based on this and prior research the authors suggest that female doctors may be more collaborative with patients and male doctors more dominant. Also, earlier studies have shown that women doctors report feeling more comfortable discussing personal and sensitive issues. It would be interesting to see a similar study regarding nurse-patient relationships.