Ethical dilemmas are common in correctional nursing. Working in a secure environment where health care is not the primary mission can lead to conflicting goals that challenge nurses to consider the very foundation of their professional practice. Here is a review of the basics of ethical care along with some common ethical dilemmas that Correctional Nurses may experience.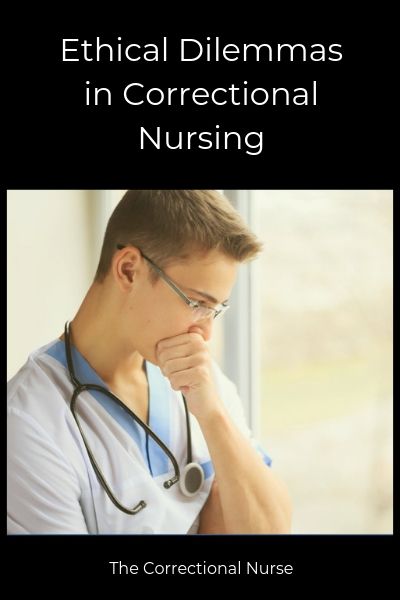 Basis of Ethical Care
Two basic principles of ethical care are beneficence (acting only for the benefit of the patient) and nonmalfeasance (do no harm to the patient). In the course of working in a secure environment, an ethical dilemma can arise when the goals of custody administration seem to conflict with these principles. Nurses follow the Code of Ethics for Nurses as a foundation for ethical decision-making. In addition, the National Commission on Correctional Health Care has published an article discussing the Ethical and Legal Issues surrounding Correctional Nursing Practice. Both help guide our practice in the criminal justice system. Let's look at just a few examples of ethical dilemmas that may be encountered in our Correctional Nursing practice.
Body Cavity Searches
Healthcare staff may be asked to perform searches of rectal or genital areas for contraband items such as drugs or weapons. If this action has no health purpose and would not be of benefit to the patient, it is not appropriate for health care staff to proceed. Professionals may hesitate to allow custody staff to perform these searches as they may be less skilled and might injure or harm the patient. However, there is general agreement that body cavity searches should not be performed by healthcare staff who have a patient-provider relationship with the inmate.
Collecting Forensic Information
Along the same lines, requests can be made to assist with collecting forensic evidence to be used against the inmate, such as blood tests, DNA analysis or psychological evaluations. Providing such services would constitute a conflict of interest for the care providers working in the facility. Resources outside the facility medical unit could be accessed to provide these services. Some programs do allow blood drawing for forensic purposes, but only with an informed consent by the patient. Check your facility policy and procedure
Executions
Most states that still have the death penalty use outside providers for monitoring and initiating lethal injection. All authorities agree that participation in executions is inappropriate for healthcare staff with a patient-provider relationship to the incarcerated population.
Hunger Strikes
Ethical conflict can develop regarding treatment choices during hunger strikes. Most certainly, monitoring the health status of a striking inmate would be beneficent and nonmalfesent care. The dilemma begins if healthcare staff are asked to force feed (tube feed) the starving patient, like they were during the Quantanamo Bay controversy. Practitioners are mixed on a response to this request. Although there is no clear consensus, the Federal Bureau of Prisons has a program statement on hunger strikes indicating force-feeding is a medical decision based on emergent life threatening criteria. Additional information on managing hunger striking inmates can be found on the Jail Medicine blog.
Inmate Discipline
Involvement in inmate discipline can also result in an ethical dilemma. For the most part, healthcare staff should not be involved in disciplinary action or disciplinary committees determining actions in the facility in which they work, unless their role is one of advocate (for example, providing supportive information about the patient's mental health to a disciplinary committee). However, involvement becomes necessary when a staff member has witnessed or is the receiver of wrongful action. It is appropriate to provide factual objective testimony in order to maintain security in the facility and the safety of other inmates and staff members.
Patient Confidentiality
Healthcare providers often get queries from custody staff about the health condition of particular inmates, often related to infectious diseases or mental health. Health care status may be inferred by the type of services provided to specific inmates or special needs issues (bottom bunk, special diet, etc). In these situations, it is important to carefully share needed information which will minimally jeopardize patient confidentiality. The specific need can be shared (bottom bunk) without sharing the diagnosis (seizure disorder).
Conclusion
Correctional nursing can seem like a minefield of ethical challenges. By standing firmly on a foundation of the ethical principles of beneficence and nonmalfeasance while engaging the principles of the Code of Ethics for Nurses, we give our best to our patients.
What other ethical dilemmas might be experienced in correctional practice?