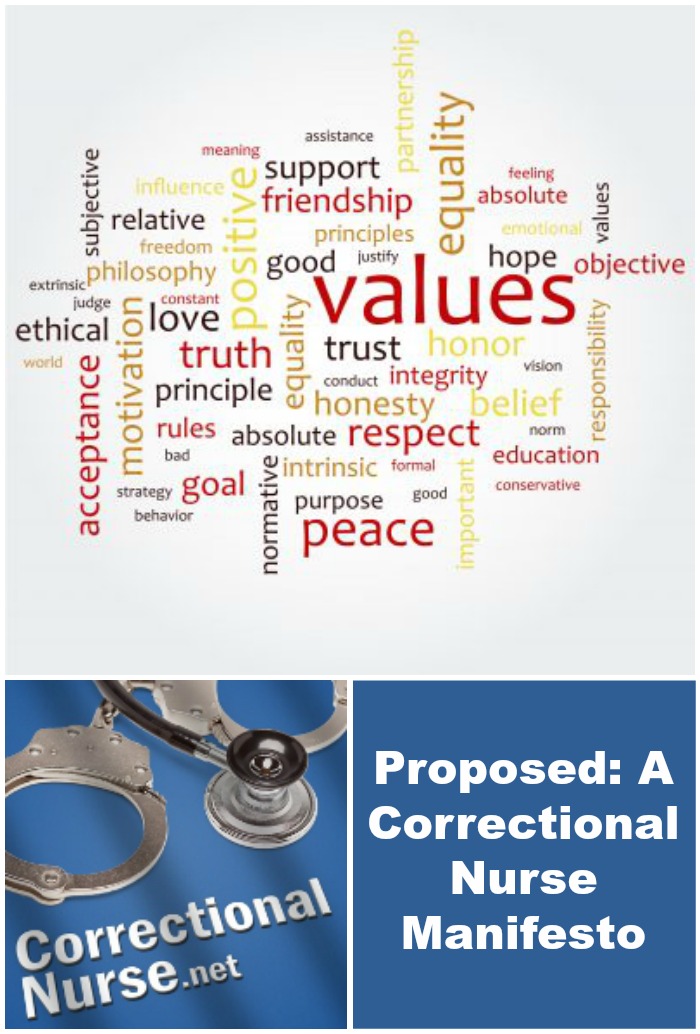 Correctional nursing practice is full of landmines. We often walk a dangerous path through a jungle of tangled and conflicting values and norms. A map is always a help in foreign territory. Over the last few years I have had opportunity to consult with correctional nurses in a variety of settings as they struggle to provide much-needed care to a potentially violent and unsafe patient population. As correctional nurses we must, at times, advocate for patient health needs in an environment of conflicting priorities and shrinking resources. It is easy to get discouraged and disconnected from the professional nursing values that originally provided meaning to our nursing practice.
A manifesto is a declaration of intention, motives and values of a group. It provides a true-north reading for group members to revisit during times of uncertainty. It makes visible the meaning of professional being and action. Affirmation statements can re-center us to those values of importance. With that in mind, I would like to suggest Seven Affirmations for a Correctional Nurse Manifesto. I will discuss each affirmation and its importance to correctional nursing practice in upcoming posts (linked to each proposition).
A Correctional Nurse Manifesto
As a correctional nurse, I will strive to:
So, what do you think of these affirmations? Are these important intentions, motives, and values for those of us providing nursing care in the criminal justice system? Did I miss anything? What would you add to a manifesto for correctional nurses? I look forward to hearing from you in the comments section of this post.
Photo Credit: © ojka – Fotolia.com