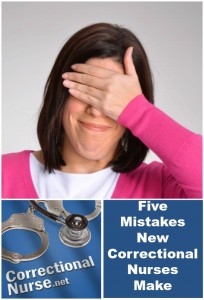 I've worked with a lot of new correctional nurses over the years; many of them succeeded and embraced the unique nature of our specialty. Some, however, quickly abandoned their positions even before they gave themselves time to adjust to their new role. Sometimes it is just not a good fit. For example, some nurses just can't bear to hear the bars click shut behind them when they enter the sally port after security clearance. However, many times nurses make preventable mistakes that land them in trouble on the 'inside'. Based on my experiences, here is a list of common mistakes nurses can make in their first correctional position.
Not paying attention to security procedure
Many seasoned correctional nurses will tell you that working behind bars is one of the safest jobs around. In fact, correctional nurses have more security presence than most emergency rooms or mental health units in traditional settings. That being said, nurses must know the security procedures and follow them. For example, nurses need to know where officers are located and how to activate the alarm system. We also need to let others know where we are headed and when we expect to return when moving within the various facility areas. And, whenever possible, travel with someone else. Nurses who don't pay attention to security procedure can find themselves vulnerable to injury or assault.
Disrespecting correctional officers
Correctional officers are professionals, too, and deserve civil and respectful treatment. Nurses who are arrogant or act superior to their correctional colleagues don't last in the specialty. We may come from different worldviews and we may have differing opinions, but both professions have a vital role in the facility. The happiest correctional nurses are those who build collegial relationships with the officers with whom they work.
Not treating the inmates like patients
Some nurses enter the correctional setting and find affinity with the officer role, even identifying with it. These nurses easily absorb the jail culture and abandon their nursing perspective. In a poor environment, this can easily degenerate into a cynical and punitive attitude toward the patient population. Research into correctional nurse working styles identified four types:
Idealist: Nursing perspective is a primary consideration and does not understand the security perspective
Realist: Respects the security perspective while continuing to function from a nursing perspective
Situationalist: Alternates between a security orientation and a nursing perspective depending on the situation
Acceptor: Identification with the security perspective with no application of nursing perspective while in the correctional setting
By focusing on becoming a realist, new correctional nurses can successfully navigate in the criminal justice system while providing substantive nursing care to their patients.
Treating the inmates like patients in other settings
This one sounds contradictory of the previous mistake but hear me out. While we must treat inmates like patients, nurses make mistakes when they treat incarcerated patients like they might a frail elderly hospitalized patient. What I mean is that the common signs of compassion and care provided in a traditional setting such as a shoulder squeeze or other touch can be misinterpreted in the correctional setting. Successful correctional nurses find other avenues to show care or concern.
Leaving the nursing license at the door
I know it can be hard to believe but I have seen this more than once. Nurses start working in a correctional facility and fall into practices that are definitely unsupportable to a licensing board. These practices can be as mundane as poor or missing documentation. They can also be as egregious as participating in a use of force against an inmate. A nursing license governs every employment setting, no matter how untraditional it might be.  New correctional nurses are successful when they practice within their licensure requirements when 'behind the wall'.
Do any of these sound familiar? What advice do you give new correctional nurses? Share your thoughts in the comments section of this post.
Photo Credit: © gosphotodesign – Fotolia.com