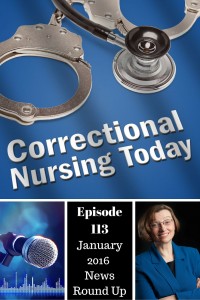 Correctional nurses Gayle Burrow and Sue Smith join Lorry to discuss the latest correctional health care news.
News Items:
Disabilities Among Prison And Jail Inmates, 2011–12
The Bureau of Justice has published a special report on disabilities among prison and jail inmates. Using data from the 2011-2012 National Inmate Survey, this report quantifies self-reported prevalence of disabilities such as hearing, vision, ambulatory, cognitive, self-care and independent living limitations among the incarcerated. This may be the first time disability has been reported by the BJS, they list no prior reports on their website.
It is an eye-opening report with significant implications for nursing practice. Our patient population has significantly more disability than the general population in almost all areas of disability. Over 30% report some type of disability with cognitive being the most prevalent.
Nurse's Testimony Cites Concerns about Another Georgia Prison Doctor
In our second story, a nurse at Washington State Prison – which is in the Georgia Prison System, not in the state of Washington – reported what she considered negligent treatment by the prison medical director and the shredding of some of her nursing documentation that would have corroborated her concerns. She alleges she was then locked out of the prison and lost her position in retaliation. I talk to correctional nurses across the country and losing their job for reporting patient concerns is a real stress and moral dilemma.
Ohio Seeks to Stem Spike of Women in Prison
Our next story is about a provision in the Ohio state budget to empower the Ohio Prisons Director to move nonviolent, low-level felony drug offenders into community programs and electronic monitoring rather than prison when they have less than a year to serve. Although this can affect up to 2100 current inmates, the first priority will be women who tend to have short sentences for nonviolent drug crimes and struggling with mental-health and addiction issues.
National Organizations Ask Feds to Address Use of Restraints on Incarcerated Pregnant Women and Adolescents
Our last story is good news for women in the criminal justice system who are pregnant. Six national organizations are calling for federal policymakers to support and encourage state and local government efforts to restrict the use of restraints on incarcerated women and girls during pregnancy, labor, and postpartum recovery. The American Psychological Association seems to be leading the coalition of organizations that includes the American Congress of Obstetricians and Gynecologists, the American Jail Association, The Human Rights Project for Girls, The National Commission on Correctional Health Care, and the National Council of Juvenile and Family Court Judges. They cite the 2012 Best Practices in the Use of Restraints with Pregnant Women and Girls Under Correctional Custody published by the Bureau of Justice Assistance in the statement.
What is your take on these news stories? Share your thoughts in the comments section of this post.