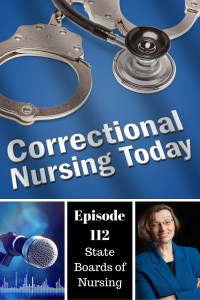 Patricia Blair, JD, MSN, CCHP, a nurse attorney from Houston, TX, talks about nursing licensure issues and the appropriate response to a Board of Nursing inquiry on this episode of Correctional Nursing Today. Dr. Blair's law firm specializes in health law, including nursing, and guardianship law. She also serves on the National Commission on Correctional Health Care board of directors as liaison to the American Bar Association.
Professional licensure is a requirement of practice in nursing so anything that jeopardizes continued licensure can also jeopardize employment and livelihood. Yet, many correctional nurses are unaware of the operations or importance of the governmental entity that has responsibility for our license – the State Board of Nursing.
A common misconception is that the mission of the State Board of Nursing is to protect the nurse. In reality, the State Board of Nursing has a mission to protect public safety. This includes monitoring nursing practice, accrediting schools of nursing and establishing who is qualified to teach in these schools. Boards of nursing also establish the NCLEX passing score, requirements for continuing practice in nursing, and when and how nurses will be disciplined for unsafe nursing practice.
When there is a credible report of possible unsafe nursing practice, the Board sends a letter of notification to the nurse under investigation. The nurse then has up to 30 days to provide a written response to the allegation. Blair suggests a deliberate and thoughtful response to a notification letter. Unfortunately, many nurses panic and call the Board immediately and without preparation; causing harm to credibility and possibly tainting the ongoing investigation.
The goal of a thoughtful response to the notification letter is for the nurse to show the board an understanding of the Nurse Practice Act, the scope and standards of practice, and the code of ethics. The outcome will determine if the investigation is put to rest or if it moves forward to a hearing.
In Blair's experience, a hearing before the board is a matter requiring legal representation. A nurse should not attend a hearing alone. There is too much at stake by this time to attend without counsel.
Unfortunately, the board investigation process can take an extended period of time; leaving the nurse in an unsettled period. Dr. Blair has some excellent advice in this interview as to how to deal with employment issues during the waiting period.
Have you had to deal with a board of nursing investigation? What was your experience? Share your insights in the comments section of this post.