Two terms which guide correctional healthcare emerged from case law surrounding the Estelle v GambleSupreme Court ruling.  The ruling cited a "deliberate indifference to serious medical need" as a breach of the 8th Amendment barring cruel and unusual punishment.  These terms have guided correctional healthcare and the practice of correctional nursing. Once again, I refer heavily to William J. Rold's excellent and understandable article in the Journal of Correctional Health Care (JCHC).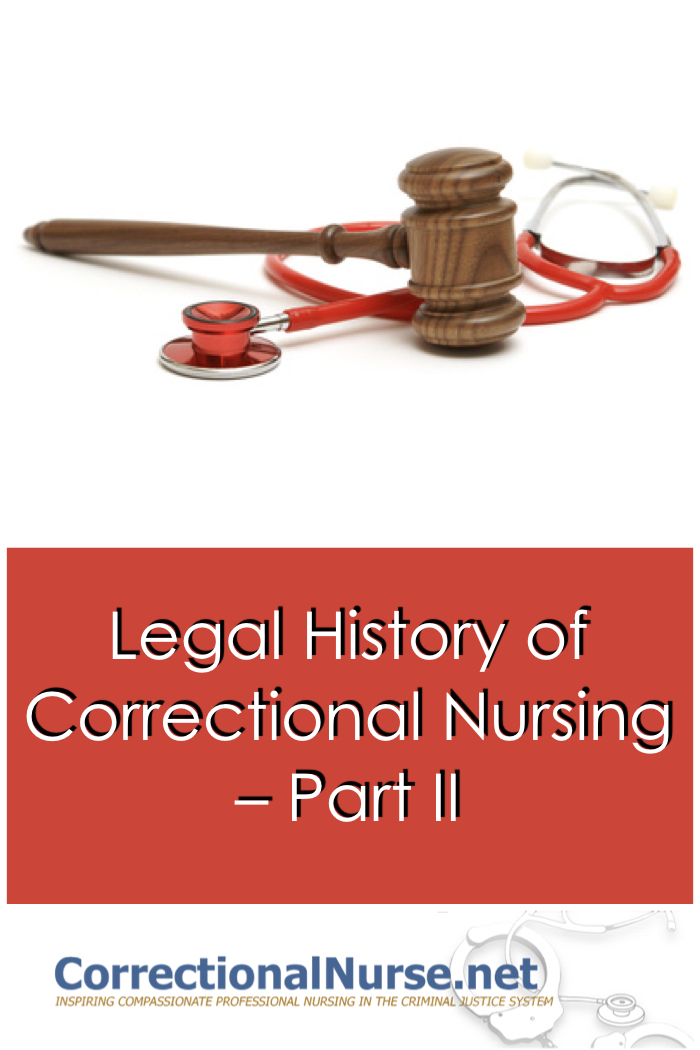 Legal History of Correctional Nursing Part 2
#1 Deliberately Indifferent
The correctional entity is determined to be deliberately indifferent if it is aware of a serious medical need and purposefully disregards it. Individuals in jails and prisons, unlike the free population, are unable to seek medication or medical treatment at will. They are confined to receive care by the medical staff provided and the times determined by others. Prisoners must seek medical assistance even when over-the-counter remedies are needed or specialized clothing or equipment could prove helpful. The correctional entity may not keep the inmate from obtaining needed care for purposes of saving money or as part of punishment. The 1976 Supreme Court decision, therefore, launched the specialty practice of correctional medicine and correctional nursing as healthcare units developed in most jails and prisons. Many states now have specialized prison hospitals and long-term care facilities to provide necessary acute and on-going care. There are prison-based dialysis units, mobile diagnostics, and emergency response teams to meet the medical needs of the incarcerated.
#2 Serious Medical Needs
The court did not, however, determine that all desired or even necessary healthcare was required to be provided. A medical need must be determined to be of a serious nature to warrant constitutional protection. Follow on court cases such as Duran v. Anaya, 1986; and Ramos v. Lamm, 1980 helped to define serious medical need as having been 'diagnoses by a physician as mandating treatment or…is so obvious that even a lay person would easily recognize the necessity for a doctor's attention". In addition, the length of time the person is incarcerated can be taken into account when determining a serious medical need. An individual jailed for several days may not be entitled to dentures, while one serving a 20 year sentence may.
The court definitions of 'deliberate indifference' and 'serious medical need' reverberate through the practice of nursing in corrections. Nursing care within the security parimeter has been determined based on these parameters. Emergency care, ambulatory clinic services, and chronic care disease management practices all stem from the requirement to be attentive to the serious medical needs of incarcerated individuals who are unable to seek out medical treatment independently.