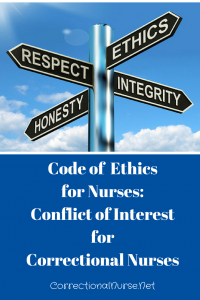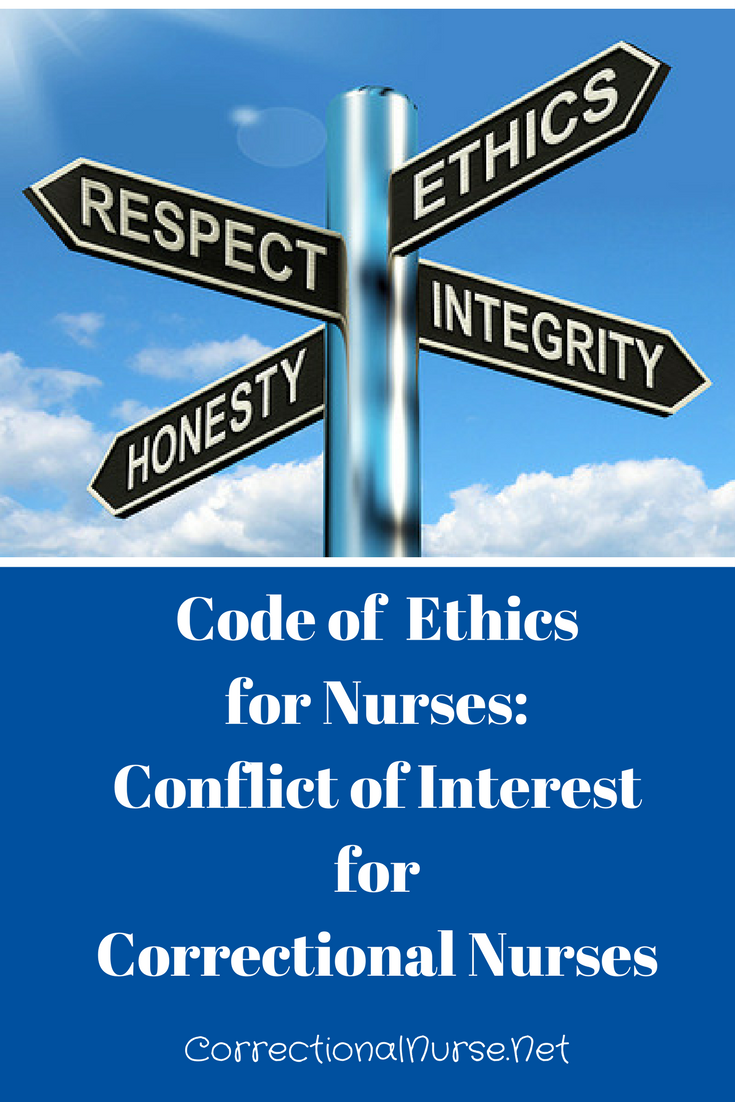 Jan is the only nurse working in a medium security rural prison. The warden runs a tight ship and is especially concerned with contraband. The prison system Medical Director agrees and is very careful with the types of medication prescribed to inmates, especially psychotropics. When inmates are booked into the prison from urban jails Jan has a written protocol to discontinue all psychotropics and arrange for the patient to see the nurse practitioner at the next available appointment. She has been following this guideline for a while but is starting to have concerns about some patients who are showing signs of psychological deterioration.
While the first provision of the Code of Ethics for Nurses addresses the need for compassion and respect for all individuals, the second provision identifies the primary concern of nursing care – the patient.
Provision 2: The nurse's primary commitment is to the patient, whether an individual, family, group, community, or population.
What is a Conflict of Interest?
Many working definitions of conflict of interest involve the competition of self-interest and the patient's interests. For example, the College of Registered Nurses of British Columbia (CRNBC) provides this definition:
"A conflict of interest occurs when a nurse's personal, business, commercial, political, academic or financial interests, or the nurse's family or friends, interfere with the nurse's professional responsibilities or a client's best interests."
However, the Code of Ethics for Nurses broadens conflict of interest to indicate any interest that competes with the primacy of the patient's interests.
"Nurses may experience conflict arising from competing loyalties in the workplace, including conflicting expectations from patients families, physicians, colleagues, healthcare organizations, and health plans."
Jan is experiencing a conflict arising from expectations of the warden and medical director. These expectations compete with the best interests of her patients.
Who's on First?
It is easy to lose sight of the goal with so many masters in correctional nursing practice. Jan is caught in this struggle. If asked, Jan would say that she keeps her patients first in mind. In fact, keeping their environment free of contraband is helpful; especially in reducing bullying and cohesion among inmates.
Jan does many things to remain patient-centered in her correctional nursing practice. She involves her patients in decision-making, when possible, and maximizes use of limited health resources. But she is realizing that this standing order about psychotropics is not in the best interests of her patients. Now what?
Conflicting Loyalties
Nurses in every setting can struggle with dual loyalties. We are, after all, employees and colleagues as well as care providers. We have families and can struggle with our obligations to family relationships and our obligations to complete our assignments or attend to a pressing patient issue before leaving work. We can also have disagreements about whether the actions or directives of others in the care team are in the best interests of our patients.
Speak Up – Speak Out
What would you do if you were in Jan's situation? Here are some actions to take in any ethical dilemma.
Clarify the ethical issue. How is the withholding of psychotropics detrimental to patient care?
Gain support. Jan could discuss this issue with the Nurse Practitioner provider for the facility.
Speak up. Following the chain of command, Jan would first need to speak with the medical director.
Speak out. If a patient-centered resolution is not obtained, Jan may need to take this outside the facility and discuss with the ethics committee of the State Board of Nursing.
How about you? What advice would you give Jan in this situation? Share your thoughts in the comments section of this post.
The American Nurses Association (ANA) designated 2015 as the Year of Ethics for American nurses. This year I am blogging about the Code as I write a book to help correctional nurses apply the Code of Ethics in our challenging setting. Read all posts about the Code of Ethics here.