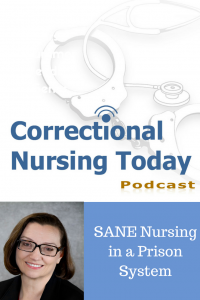 Masonda Wheatly, RN, CCHP, is the SANE Nurse Coordinator for Corizon Health in its Missouri Regional Office, serving the Missouri Department of Corrections (MODOC). She is also the CQI Coordinator and Clinical Educator for the Region. In this episode, Masonda joins Lorry to talk about implementing a Sexual Assault Nurse Examiner (SANE) program in a prison system.
The Prison Rape Elimination Act (PREA) of 2003 established national standards for the prevention and treatment of sexual assault in the nation's jails and prisons. Correctional systems have responded to these standards in a variety of ways, most often setting up processes for sending rape victims to external facilities for examination and evidence-gathering. The Missouri Department of Corrections health care services provider, Corizon Health, had a different idea. They created a SANE nursing program within the prison system to meet this need. The SANE nursing program is a part of a coordinated approach within the Missouri system that included investigators, advocates, and mental health professionals.
Benefits of an In-House SANE Program
Prior to initiating the MODOC SANE Program, an assault victim could wait up to 12 hours to be transported to an outside provider for a SANE examination. Having a SANE nurse who works within the system assigned to each facility greatly reduced the wait time. Below are other benefits to an in-house SANE program.
Reduced number of individuals involved in the case, therefore, decreasing further trauma and embarrassment to the victim.
Assault victims are examined and cared-for by correctional nurses who understand their situation and the criminal justice system.
Increased public safety and decreased manpower use by decreasing off-site transport requirements.
A SANE nurse is a part of the internal sexual assault response team, enhancing coordination of efforts.
Challenges of an In-House SANE Program
Masonda would be the first to admit that getting up and running with an in-house SANE program is challenging.  Correctional nurses within the system must be recruited and trained. Participation in the education program includes both classroom and clinical components. Special equipment for simulation exercises must be obtained and maintained. Policies and procedures must be developed and other sexual assault team members need to understand the role of the SANE nurse in assault investigation. Evidence-gathering equipment and supplies must be obtained, distributed to all sites, and maintained for ongoing use.
While, at times, program initiation seemed overwhelming, Masonda is delighted with the outcome. Nurses now working in the SANE program find it rewarding, as well.
How are you dealing with sexual assault examination in your setting? Share your ideas and experiences in the comments section of this post.