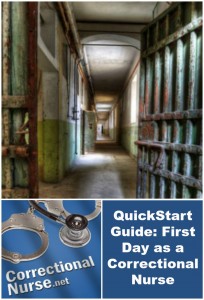 Are you getting ready for your first correctional nursing position? Read this QuickStart Guide: First Day as a Correctional Nurse. This information is for you! After working behind bars for a while, it can be hard to remember what it was like before we entered the security perimeter for the first day of work. If you are a correctional nursing pro or a nurse manager, you may be able to use this information when advising or interviewing potential new staff members.
What to Ask
Don't be afraid to ask what to expect. Although there are similarities across the various types of facilities and levels of security; there is also great variability as to focus. Having been in and out of dozens of facilities, I can tell you that each security culture has its own peculiarities. Even within a state prison system, some facilities may be stricter than others.  You will want to be prepared. Ask if someone will meet you at the door your first day (recommended). Find out their name, position, and telephone extension. If they are not there when you arrive, give this information to the reception officer so an escort arrangement can be made. Ask about what to wear and what you can bring into the facility. Below are some general rules for consideration.
What to Wear
Clothing serves many purposes in corrections. Clothing designates the status of many of the officers and staff in the custody profession. Clothing also designates the inmate population in many facilities. Inmates must often relinquish personal possessions during intake and are provided standard issue jumpsuits or 'uniforms'. The standard color for inmate wear is usually off-limits for staff apparel. Find out what those colors are and be sure not to be wearing them or you may be prohibited entry. Correctional facilities also often require modest dress. For example, some facilities do not allow sleeveless tops and most do not allow low or even moderately low necklines. The determination may be at the discretion of the entry staff. Don't take chances before you know the culture. Dress conservatively in your first days on the job.
Many places do not allow open-toe shoes or jewelry. Hoop earrings and necklaces can be used to harm and even kill the wearer. Another clothing challenge for females is the underwire bra. The wire stays provide excellent support but often activate the security alarm at the staff entrance. You may need to switch out your undies collection for your new position.
What to Bring
Like clothing, approved personal items that can be brought into a facility can also be variable. For example, some facilities do not allow any food brought in, others do not allow liquids or anything made of glass. Still others allow liquids if unopened and in plastic bottles. Cell phones and other electronics are almost universally banned. Some facilities require all carry bags to be of clear plastic so that all items are visible for inspection. Keep it simple and par down your required personal carry items. When I am entering a new facility my standard operating procedure is to leave almost everything locked in my trunk and carry in $10 in cash with a few $1 for a vending machine, chapstick, a few tissues, and my driver's license.  Most facilities require photo ID until you are issued a personnel badge. Add to that a packed in lunch, if permissible, and you should be ready for most anything that first day.
What to Expect at the Door
You will most definitely have a security check at the entrance to the facility. This usually includes passing through a metal detector and possibly a pat-down. The pat-down should be done by a same-gender officer. Personal items not allowed in the facility are best left in your locked car, but many facilities also have lockers at the entrance for small items. There will also be a log book to sign and date when entering and leaving the facility. This information is useful if there is a need to evacuate the facility or account for all individuals in a potential hostage situation.
With thoughtful planning, you will breeze through your first security check. In no time, these principles will be an automatic part of your correctional nursing practices.
Have I missed anything? Provide your advice to new correctional nurses on their first day in the comments section of this post.
Photo Credit: © marcel – Fotolia.com