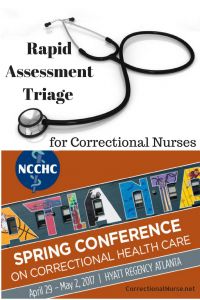 Eileen Couture, DO, RN, CCHP-P, is Medical Director at the South Suburban Council on Alcoholism and Substance Abuse outside of Chicago. This post is based on her session "Rapid Assessment Triage for Nurses" taking place at the 2017 Spring Conference on Correctional Health Care in Atlanta, April 29-May 2. Learn more about the conference and register HERE.
Consider this situation: A detainee admitted two days ago is now vomiting at 3am. An officer calls the medical unit requesting a nurse evaluation. The nurse, however, is busy getting meds ready for the 5 am court call. The officer calls several times in the next hours and the nurse arrives at 6am to assess the inmate. He is diaphoretic and now states he has been having chest pain. Vital signs are BP 90/60, HR 120, RR 30. What should happen next?
Obviously, this inmate is in need of a higher level of care. His vital signs are unstable. This situation is an example of the conflicting priorities that face many correctional nurses. While preparation for medication administration is important, assessing this inmate earlier may have significantly affected his recovery. Using a rapid assessment and triage process could have helped this nurse to evaluate and treat this patient quickly, allowing both priorities to be met.
What is Rapid Assessment?
The rapid response process was developed in hospitals to influence patient care and outcomes. More than 10 years ago (2004) the Institute for Healthcare Improvement (IHI) began encouraging American hospitals to implement rapid response teams.  IHI found that nurses were failing to observe subtle changes in patient conditions.  The failed recognition lead to poor outcomes and was identified as a "failure to rescue."  Today a "rapid response" may be called upon recognizing a patient's changing condition or just having signs or symptoms consistent with a life threat or other (confusion, tachycardia, fall,).
Frequently correctional nurses practice with few other health care staff present. We must "keep an eye on" the health of many inmates. The rapid assessment triage process can help to identify patients needing immediate attention.
Basically, the rapid assessment triage process involves systematically implementing a uniform response to emergencies or unexpected events. The event or incident frequently takes providers out of the comfort zone.   It may require that normal routine stop or be delayed because of the need to respond.  It can range from a fall to an acute asthma attack or to an entire group of inmates that suddenly develop diarrhea. Rapid assessment encourages initiating nursing interventions based on a physical assessment of the detainee or the situation.  It requires physical assessment skills and clinical decision-making.  It involves independent nursing interventions and creative thought (applying oxygen, obtaining an EKG, checking the blood sugar, administering nebulizer treatment) and analyzing what is the best next step for the detainee.
Pitfalls to Avoid
There are often three problems that can arise when assessing a potentially changing patient's condition. Keep these in mind when managing emergency patients.
Breakdown in communication: Communication is always a challenge in correctional health care. Frequently, a correctional officer first responds to a request for an urgent health evaluation. Thus, the inmate must convince or convey a clear message that medical help is needed. Communication may not be clear or the officer may be distracted by other tasks. Once contacted, the nurse may need to prioritize current workload to assess the patient; as in the situation described at the start of this post. Once completed, this assessment may need to be communicated to a medical practitioner. Communication can break down at any point in the process.
Failure to recognize early signs of deterioration: Talking through bars and assessing the detainee by looking briefly as he sits on the bed is not an adequate assessment. Yet, it can be difficult to make arrangements for a thorough assessment. Thus, signs of deterioration in condition can be missed. In settings where infirmary or observation cells are available, vulnerable or fragile patients can be moved to a closer location for more frequent assessments.
Incomplete assessments: Distractions and physical barriers can lead to incomplete assessments, as can focusing on one area to the exclusion of others. While the patient in the situation described above was complaining of nausea, a thorough assessment would have included both neurologic and cardiac evaluation.
Developing Skill
The best way to develop good skills is to practice and provide ongoing education for those who respond to emergencies. Many times the patient's symptoms are subtle and it takes a keen nurse to put the entire picture of the problem together. It also takes curiosity and skill to put all the puzzle pieces together.
Have you been involved in a situation requiring rapid assessment and response? Tell us your story.
This post is part of a series discussing topics addressed during sessions of the 2017 Spring Conference on Correctional Health Care. All posts in this series can be found HERE.