This post is based upon the Correctional Nursing: Scope and Standards of Practice, third edition, published by the American Nurses Association.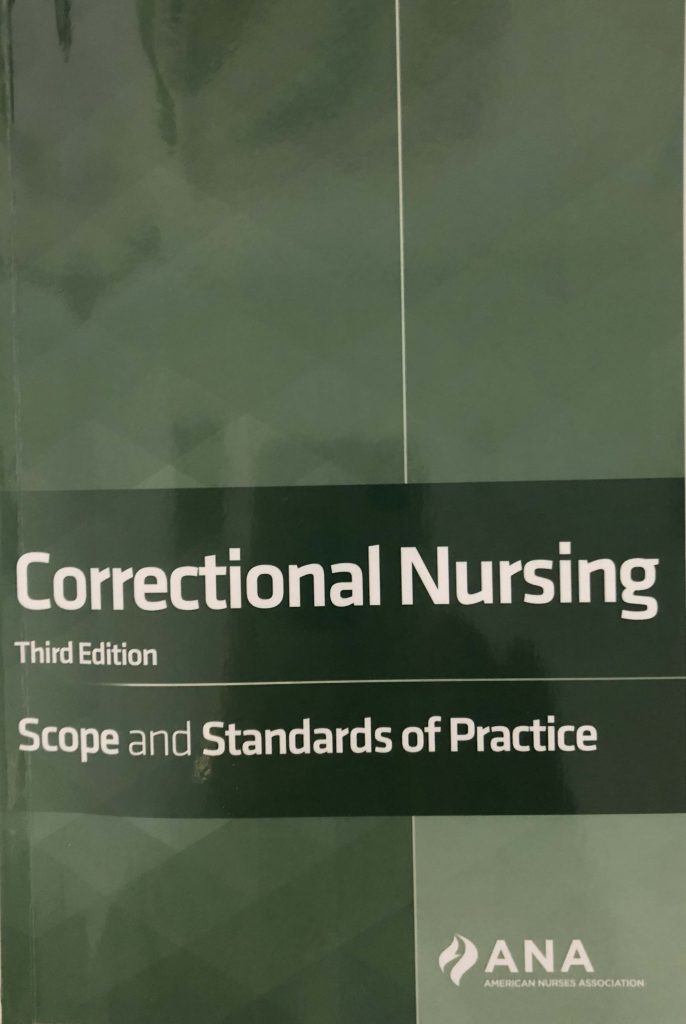 Correctional Nurses practice in an environment where healthcare is not the primary mission. We are most often the first point of contact for incarcerated patients to access healthcare, including medical care, mental health care and health education.
Correctional nurses need to use the nursing process, as do all nurses, to complete their comprehensive assessments, determine the nursing diagnoses, identify the desired outcomes, develop the nursing care plan and re-evaluate the patient to ensure that the outcomes have been achieved. To do this effectively, Correctional Nurses develop flexibility, attention to detail, critical thinking, strong clinical decision-making skills and a solid foundation in the standards of nursing practice. Other skills necessary for correctional nursing practice include accurate triage skills, solid communication skills, and strong negotiation skills. Correctional Nurses also need solid foundational knowledge in minor illness and injury care and the care of the chronically ill.
There are many roles associated with Correctional Nursing, including patient advocate, patient educator and facilitator of access to care for patients. Other areas of practice for Correctional Nurses include substance use treatment and monitoring; sexual abuse care; mental health treatment and care; discharge/re-entry coordination and care; medication administration and management; wellness screening and care. Correctional Nurses are also responsible for executive level duties like policy and procedure development, administrative decision-making and supporting the nurses doing direct patient care.
Correctional Nursing involves many different types of care, including the following:
Primary Care
Correctional nurses are most often the first point of contact for incarcerated patients with healthcare needs. Encounters can be either patient-initiated, like those made in response to Health Services Requests or nurse-initiated, like Intake Screenings, Initial Health Assessments and Nursing Sick Call follow-up appointments. Correctional Nurses may also be integral to referrals for off-site care, discharge planning and the completion of ordered tests.
Acute Care/Emergency Care
The World Health Organization defines acute care as "sudden, often unexpected, urgent or emergent episodes of injury and illness that can lead to death or disability without rapid intervention." Correctional Nurses respond to acutes issues, including those involving patients, officers and visitors to the correctional facility. Correctional nurses ensure that the response to an acute condition is immediate and appropriate care is provided. The Correctional Nurse also ensures that the patient is transported, if necessary, to a facility that can provide the diagnostic tests and treatment required.
Palliative Care
Today many correctional facilities have noted the need for their patients with terminal illness to have a comfortable and dignified death if they cannot be released to their community. Correctional Nurses play an integral role in providing hospice care.
Special Care
Correctional Nurses provide care to patients in a number of special circumstances, such as those housed in segregation and special housing units (medical and mental health); geriatric patients; and patients in Infirmaries and hospitals that are correctional facilities. These settings and circumstances may require flexibility and processes that may differ from those for care in general population, but the care provided by correctional nurses must adhere to the standards of nursing care. With their patients as the primary concern, Correctional Nurses should also be advocates for policies and procedures that enhance the quality of care for their patients.
Medication Management
Correctional Nurses must be knowledgeable about medication prescribed and administered to their patients, including the expected dosage, potential side effects, contraindications and potential interactions. They must also know the state statutes and regulations regarding the handling, administration, storage, accountability and dispensing of medications in the state in which they practice. The Correctional Nurse may manage a Keep-On-Person (KOP; also known as a Self-Administration program) program and be responsible to ensure that the patients prescribed medication understand what medications they are prescribed; why they are prescribed the medication; what dosage they should be taking; when to take it; and potential adverse effects they must watch for and report.
Patient Education, Advocacy and Health Promotion
Perhaps the two most important roles of Correctional Nurses are patient educator and patient advocate. Patient education occurs with every patient encounter. Often our patients have a low health literacy even when they have chronic illnesses and have been prescribed medications for many years. Our interventions and patient education can make the difference in their continuing treatment, medication adherence, and in general, understanding the impact of their health conditions when the patients are released back to the community. Encouraging timely access to health care in the community is part of the patient education we provide for discharge/re-entry. Correctional Nurses may conduct health education with custody staff and even the greater community.
Patient Advocacy is addressed in greater detail in this CorrectionalNurse.Net blog post. It includes three Core Values – respect for human dignity; patient equality and freedom from suffering. Correctional Nursing activities such as triaging healthcare requests timely; following up on patient appointments; and eliminating barriers to healthcare access are all examples of patient advocacy.
To learn more about Correctional Nursing Practice and Roles, get a copy of Correctional Nursing: Scope and Standards of Practice.