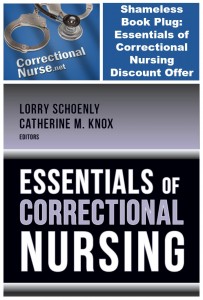 When I started in correctional nursing 8 years ago it was like entering a brave new world. Truth be told, I didn't even know nurses worked in jails and prisons until I answered an online advertisement for the NJ prison system. Many of you have similar stories of becoming correctional nurses 'accidently'. None of us grew up telling anyone we wanted to be a jail nurse when we grew up. However, for a variety of reasons, here we are, providing nursing care behind bars. This invisible nursing field has few resources to guide new recruits.
Having a background in professional practice development, it was natural for me to seek out opportunities to develop the specialty of correctional nursing practice once I found myself in this environment. Through networking at the multidisciplinary conferences of the National Commission on Correctional Health Care I was able to meet a dedicated group of correctional nurse leaders and later work with them on a taskforce to create the correctional nurse certification exam (CCHP-RN). I remember the day I had the brainstorm about the book. The taskforce was discussing how the exam would help establish the unique specialty practice of correctional nursing and I thought – we need a core curriculum for the specialty. At the time it seemed a monumental undertaking.
Several years later, Essentials of Correctional Nursing, was published, thanks to the willingness of Springer Publishers and the hard work of my co-editor Catherine Knox and our 8 contributing authors; all members of that original certification taskforce.  I am proud to have worked with them in this labor of love, blood, sweat and, yes, tears. But, publishing a book is just the beginning. Now we need to get the book in the hands of as many correctional nurses as we can. Can you help?
Our publisher is offering a $15 discount and free shipping if you order the book directly from them and us the Promo Code AF1209. This is a great offer and brings the price below even the amazon.com listing. Consider suggesting the book for your unit library or place it on your Christmas wishlist. This book is a great resource to both new and experienced nurses. Yesterday I had a physician tell me he is recommending it to new correctional physicians as so much of the content is applicable for general correctional health care practice.
Have you already obtained a copy of Essentials of Correctional Nursing? Leave your feedback in the comments section of this post. Or, even better, write a review on amazon. It will make a huge difference!