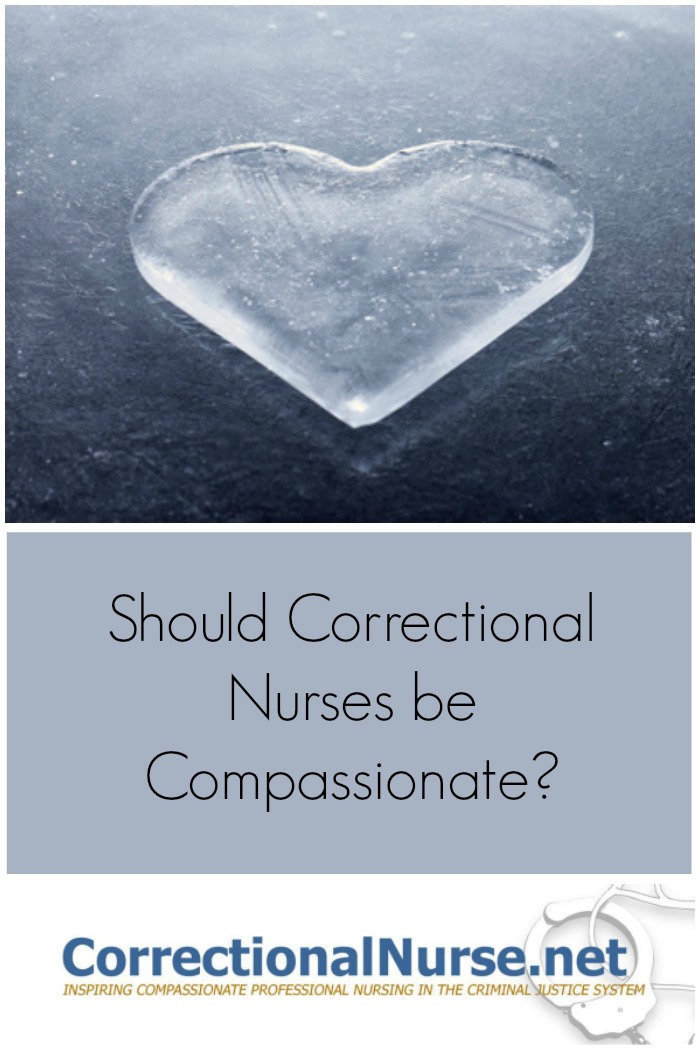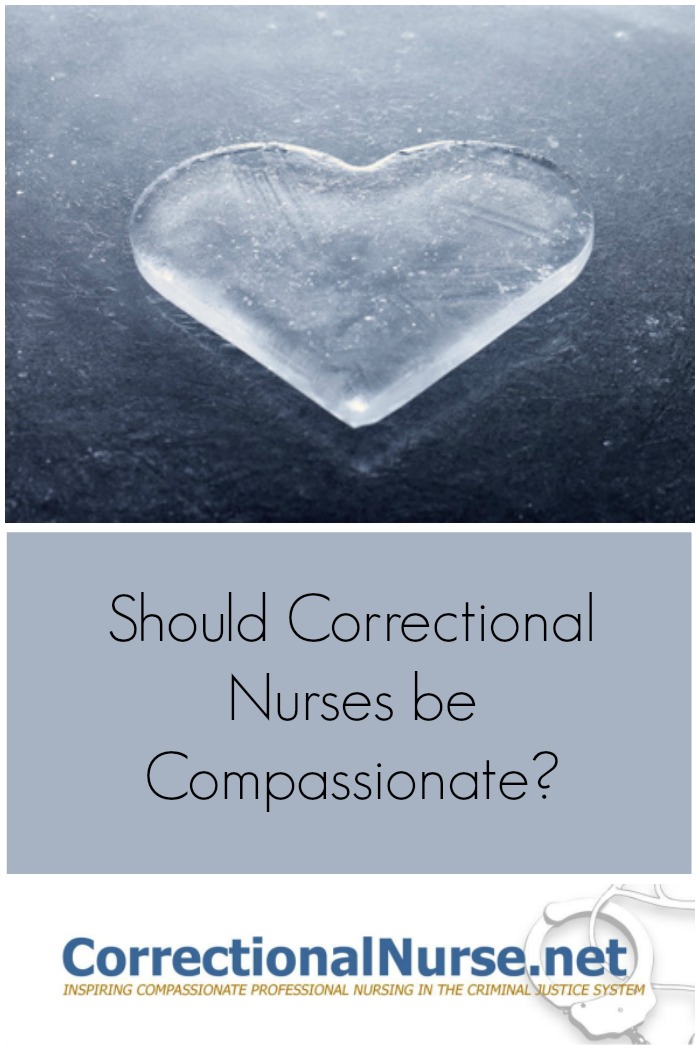 A while back a blog reader emailed me to thank me for providing visibility for our specialty and to take issue with my blog byline: Inspiring Compassionate Professional Nursing in the Criminal Justice System. Seems that the word 'compassion' was not sitting well with this nurse leader who actually taught new correctional nurses to "check their compassion at the gate before they come in". The email concluded with this statement: "I encourage new nurses to show compassion in the care they provide, but I clearly define the difference between showing it and actually feeling it. On the continuum of emotion, compassion is incredibly close to love and I challenge anyone in our profession to justify using the word love in the way we care for our patients."
I appreciated hearing from this reader (email me at lorry@correctionalnurse.net anytime!) and have been pondering the perspect of showing compassion and not feeling compassion for a while now. Is that possible? What would that look like? Is it dangerous to deliver compassionate professional nursing in the criminal justice system?
The Issue
The compassion issue in correctional nursing hinges on the friction of care and custody so often encountered in our setting. Most correctional nurses work in a security conscious para-military setting where the predominant culture is punitive and uncaring. Many correctional patients live lives based on deceit and manipulation. How do we practice nursing in this environment? I discuss this issue in my book – The Wizard of Oz Guide to Correctional Nursing. It is a fitting analogy that nurses in the criminal justice system find themselves in a strange land with very different colleagues, language, and culture. Yet, we must remain professional nurses, all the same. Trying to 'fit in' in this new Land of Oz can lead to some dysfunctional work styles, as I describe in this earlier post.
Defining Compassion
One of the difficulties encountered right away is defining what compassion really means as it relates to health care practice. On a search for this answer I came across the national debate on compassion in healthcare currently going on within the British National Health System (NHS). Their chief nurse set out a vision for compassion in practice in 2012 that led to this definition of compassion.
Compassion is how care is given through relationships based on empathy, respect and dignity – it can also be described as intelligent kindness, and is central to how people perceive their care.
A concept analysis can sometimes help identify important components of the meaning of a word. Here are some key elements gleaned from an analysis of compassion done by a nurse researcher:
Entering in to the suffering of another
An internalized motivation for doing good
Personal engagement in the alleviation of suffering
Therapeutic empathy
Empowers to not only acknowledge, but to act toward removing suffering or pain
In Defense of Compassion
Although poorly defined, compassion has been identified as foundational to professional nursing practice in key documents. For example, The Code of Ethics for Nurses Provision 1 states:
The nurse practices with compassion and respect for the inherent dignity, worth, and unique attributes of every person.
The Correctional Nurse Scope and Standards of Practice list principles that guide correctional nursing practice (pg. 17). Among them is this one:
Professionalism, compassion, care, and concern are displayed in every patient encounter.
So, it seems that compassion is a part of ethical practice and written in to our specialty's guidelines.
Better to be Compassionless?
But, maybe correctional nursing is so different from nursing in other specialties that we must leave our compassion at the entry gate each shift. Maybe it is too risky to by empathetic to the suffering of our patients. Maybe we need to be emotionally detached from our patients and the care we render in order to maintain equilibrium. I think it is something worth pondering and may just be one of the most challenging dilemmas of nursing in the criminal justice system.
So, what do you think? Is compassionate professional care an inappropriate goal for nursing in the criminal justice system? Help me decide if I need to change my blog byline.
Photyo Credit: © Stocksnapper – Fotolia.com