Elmer Dickens, JD, General Counsel for the Washington County Oregon Sheriff's office and the Oregon State Sheriff's Association joins Lorry to discuss the effect of power on staff-patient relationships in corrections.  He presentied a session on Staff Misconduct and PREA: How Power Affects Employee Behavior at the 2017 NCCHC Spring Conference on Correctional Health Care.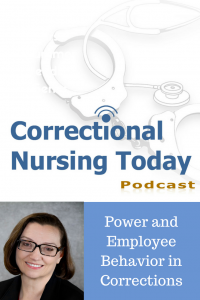 The Prison Rape Elimination Act (PREA) was signed into law by President Bush in 2003.  It took another nine years before actual standards were adopted to implement the law.  PREA is a comprehensive set of standards that outlines how facilities should address a host of staffing issues, including performing backgrounds on applicants, having a zero tolerance policy for sexual misconduct with inmates, as well as minimum standards for training staff.  While PREA standards don't technically apply to most local jails, many facilities follow them as they provide best practices in terms of avoiding staff sexual misconduct.  In addition to PREA, most states also have criminal laws prohibiting sexual contact between corrections staff and prisoners.
Two Types of Misconduct
Staff-patient relationships in a correctional setting are particularly vulnerable to sexual misconduct, in part, because of the increased power differential in the relationship. Attorney Dickens sees two basic types of staff sexual misconduct in this setting.  The first involves a staff member who is preyed upon by an inmate who understands manipulation.  This type is often caused by being overly familiar or friendly with inmates.  In the second type the staff member is a predator and uses their power to coerce or persuade an inmate to engage in some type of sexual contact.  In this scenario, the staff member is preying on weaker inmates.
Power Influences Behavior
There is academic research that indicates power may increase a person's appetite for sex, particularly in those people who are already prone to inappropriate conduct.  While this is a generalization and clearly doesn't apply to everyone who has power, staff should be aware that power may affect their own behavior or that of their co-workers.  Almost everyone has worked with or for someone who has been promoted and the increased power goes to their head.  We also see powerful people implicated in sexual scandal such as Bill Clinton, David Petraeus, Tiger Woods, or Arnold Schwarzenegger.  Sexual scandals are discovered where others have power over vulnerable people, such as teachers preying on students, clergy members assaulting children, or coaches having relationships with athletes.  In each of those cases there is a clear power dynamic.
The Power Differential in Correctional Practice
In a correctional facility, staffs have an enormous amount of power over inmates.  A staff member can misuse their power and the inmate has no alternative providers available.  In a traditional setting, if a patient is dissatisfied, the patient can simply find another provider.  Because of this power dynamic, a staff member that wishes to exploit the power relationship can usually do so.  It is common for a coercive staff member to target inmates who have little credibility, such as a drug addict or prostitute, and to explicitly tell the inmate that if they report the misconduct no one will believe them.
On the flip side, one of the other dynamics is that staff are confined to a particular location and population, which gives inmates a lot of time to study staff and try to manipulate them in some manner.  One common theme is doing a small favor for the staff member, such as interceding with a difficult inmate on the staff's behalf.  This brings into play the psychological phenomena of reciprocity – we are hard-wired to want to return favors.  Once a staff member allows themselves to be put in a situation where they owe the inmate something, it is a relatively short path to bigger favors, including sex.
Once compromised, the staff member knows they cannot report it or they will be in trouble. The inmate knows as well, so they continues to escalate; demanding more and more favors from the staff member.  It is clear that the best way to avoid this type of manipulation is to maintain clear boundaries with inmates – don't share personal information, and don't become personally involved.
Listen to this podcast to gain tips for protecting yourself from falling into sexual misconduct on the job.
How do you handle the ongoing effects of the staff-patient power differential in your setting? Share your thoughts in the comments section of this post.