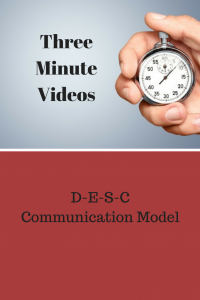 Unfortunately, many nurses working in our settings deal with incivility, disrespect, or even open hostility on a regular basis. The fragmented nature of correctional healthcare and the need to collaborate and negotiate care among a number of diverse disciplines contribute to communication difficulties.
If you work in a hostile culture, you can't always change it, but you can change the way you interact in the environment and how you respond to direct hostility. Watch this Three Minute Video to learn about using the DESC (D-E-S-C) Conflict Management Script. Each letter denotes a part of the communication.
D is Describing the problem situation
E is Expressing your concerns about the action or situation
S is Suggesting other alternatives and Seeking agreement
C is stating the Consequences and striving for Consensus
What do you think? Could D-E-S-C communication work in your setting? Share your thoughts in the comments section of this post.