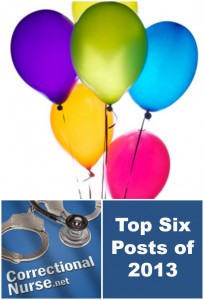 Thank you for being a part of CorrectionalNurse.Net this past year! Your comments and suggestions make this blog a helpful resource for nurses new to the specialty and those interested in keeping abreast of the latest news and information important to working in jails and prisons. In fact, my goal for this blog is:
Informing, encouraging, and inspiring nurses who care for vulnerable, marginalized patients in the low resourced, ethically challenging criminal justice system.
This blog has been around for more than 4 years now and has over 250 informational posts in a variety of categories. Search by key word using the search field in the upper right or by category using the drop-down menu on the right sidebar.
Here are the six most popular posts in 2013. Check them out if you missed them when they originally aired. Stay tuned for more great information in the year ahead. I hope you visit often and include your views by commenting frequently.
#6 Confidentiality, HIPAA, and the Correctional Nurse
Concern continues for the confidentiality of patient medical information. Correctional nurses must navigate within a security system that often requires the exchange of medical information for safety and good patient care. What medical information can be shared? This post provides information directly from the HIPAA code that specifically addresses the correctional setting.
Women may only constitute 7-12% of the incarcerated population, but their healthcare needs can be great. Maybe increased interest this year can be attributed to the popular Netflix show "Orange is the New Black" – a portrayal of life in a female federal prison.
#4 Taser Injury – The Stunning Truth
Correctional nurses take care of an extensive variety of conditions and some that are rare in more traditional settings. Taser injury is one such unusual care situation. This post covers assessing and treating post-taser wounds as well as what conditions render persons at high risk for increased injury from being tased.
#3 8 Medication Rights – Not 5?
Just when you think you are up-to-date something changes. That is life as a practicing nurse. This post adds three new 'rights' to the classic 5-rights of medication administration and is actually reposted from the blog of a fellow nurse. A great review!
#2 Interview Guide: Part I   Part II
Many nurses discover this blog while looking for help in preparing for their first interview for a correctional nursing position. This 2-part series shares tips for determining if a correctional setting will be a safe work environment along with questions that may be asked during the interview.
#1 Dental Issues for Correctional Nurses
By far, dental issues were the greatest learning curve for me in entering this specialty. This post has some great pictures provided by Dr. Stephen Mitchell and is a big help for nurses who need to know what is routine and what is a possible emergency when dealing with dental conditions.
What was your favorite post of 2013? Share your thoughts in the comments below.
Photo Credit: © Kyrylo Grekov – Fotolia.com