Transgender inmates are over-represented in the correctional settings. If you work in corrections, you are likely to come face-to-face with your attitudes and emotions about these individuals. Nursing ethical principles require those of us in the profession to provide nursing care with concern and respect for human dignity, no matter the life choices the individual has made.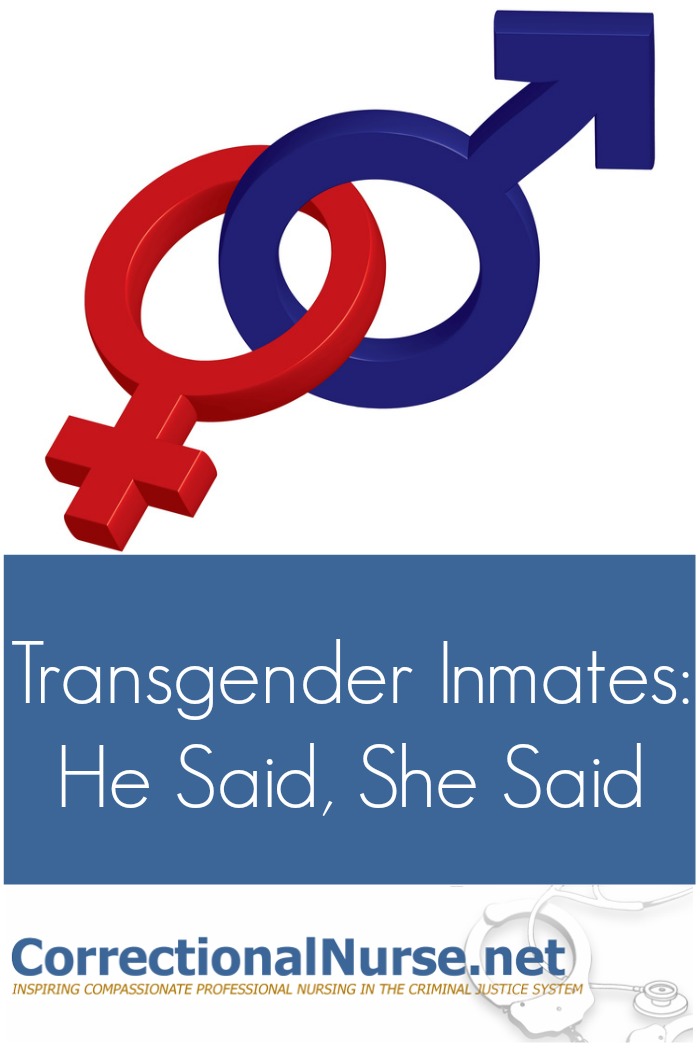 THE SITUATION: You're working medical screening for new detainees at a large urban jail. Your next case arrives for assessment with make-up and bright female clothing, although you also see male-pattern facial hair and muscle structure. What do you do?
Transgenders (also called trans or cross-genders) are individuals with an incongruity between their felt gender and their anatomic gender. The majority are male and can have a DSMIV diagnosis of gender identity disorder (GID). Your inmate-patient may be in the midst of hormonal therapy or have partial or complete sex reassignment surgery (SRS).
Conversation
Your first concern is how to address the person. Do you use the term 'He' or 'She'? Though it may seem trivial, your sensitivity in this area will establish needed repoire. Often you can avoid using gender terms or you can clearly see which term to use. For example, the individual above is likely to desire to be referred to as 'she', especially if the clothing involves a dress or skirt. When in doubt, your best option is to ask the individual how they would like to be addressed. Let them be in control of this small issue – control of so much else is gone. Attempt to be as matter-of-fact and non-judgmental as possible in all interactions.
Destination
Unless your system has special facilities for the transgender inmate, such as the new 30-bed transgender Italian prison, administration will need policies in place to determine housing designation. This is a vulnerable population requiring some type of protective housing.  The nature of the condition predisposes the inmate to a higher potential of assault or in-custody violence. In addition, those with GID are more likely to be depressed, suicidal or self-injurers. Keep this in mind when assessing these inmates for any health conditions.
Change Management
What if the person is in the midst of hormonal therapy or SRS? What responsibilities are there for maintaining or continuing escalation of therapy? Policies regarding transgender treatment differ among state and county systems. Investigate the policy at your facility before you need to use it. Discuss the situation with your manager and medical director.
In  a recent survey of correction system policies about transgender treatment, the majority of responding facilities had policies for the continuation of hormonal therapy, at least at the current level. Abrupt discontinuation of hormonal therapy can lead to physical and psychological side effects and should be avoided. Many facilities will use a 'freeze-frame' approach which continues the current therapy but does not escalate or advance the gender-change process.
Autocastration – Medical Emergency
Be aware that disturbed individuals may resort to autocastration or autopenectomy to reduce testosterone levels. The elasticity of the testicular arteries allows them to retract into the perineum making it very difficult to staunch the flow. Emergency transport, critical care and blood transfusion may be necessary.
More Resources on Transgender Treatment
How Should Agencies Manage Transgender Inmates?
If you like this post, you will like:
The Correctional Nurses' Guide to the Code of Ethics
Under the Influence: Impaired Nurses in Corrections
Caring for Criminals: Should We Be Glad Ariel Castro is Dead?
Manifesto Proposition Six: Responding to Degrading Treatment
Sexual Boundary Violations in Correctional Nursing: It Could Happen to You