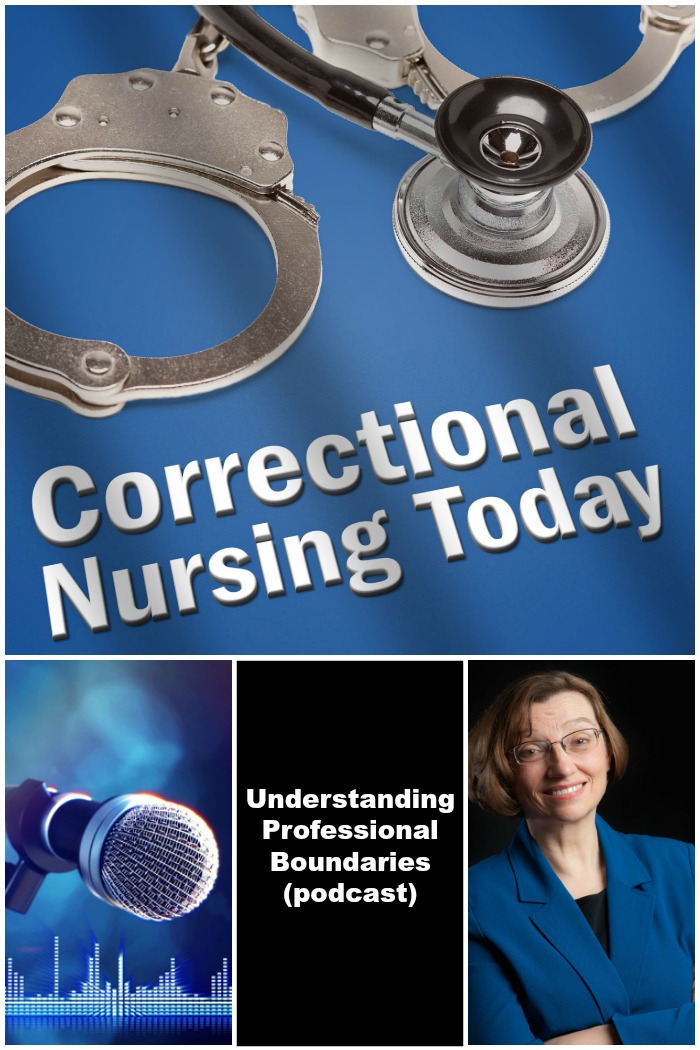 Cindy Peternelj-Taylor talks about professional boundary violations in this episode of Correctional Nursing Today. Cindy is Professor, College of Nursing, University of Saskatchewan in Saskatoon, Saskatchewan, Canada and Editor-in-Chief for the Journal of Forensic Nursing. She has done extensive research into professional boundaries in the nurse-patient relationship and shares some of her findings in this interview.
Cindy became interested in boundary violations when she saw firsthand boundary crossing and violations in her work in forensic mental health. She shares her story at the beginning of the interview. Later she describes the cardinal signs of trouble in boundary issues and how to spot them in yourself and your colleagues. Correctional nurses are particularly vulnerable to boundary violations and she tells why. She provides advice for how to deal with boundary crossings in our practice and how to support our peers in avoiding violations, including what nurse managers need to do.
Read more about Professional Boundary issues from these past blog posts:
Unhealthy Inmate Relationships: 5 Danger Signs
Sexual Boundary Violations in Correctional Nursing: It Could Happen to You
Maintaining Professional Boundaries: Part I
Maintaining Professional Boundaries: Part II
Thoughts on Under-Involvement with Our Patients
Cindy shares some ways we get overinvolved with our patients in correctional nursing. That is one way we move out of a helpfulness zone of patient relationship. The other way we move out of therapeutic relationship is when we become under-involved with our patients. It is easy to distance ourselves from inmate patients, especially when cynicism or a jaded attitude to the inmate population takes hold. This is a particular struggle to remain objective in practice. Our patient population and care environment can lead us to become skeptical and suspicious of patient complaints. New staff members soon learn that some inmates seek services for reasons other than health needs. The prison culture can value manipulation, deception, and secondary gain. Healthcare staff can unwittingly get caught up in a 'game' inmates are playing. Once burned in such a situation, it is easy to assume all inmates are looking for an angle when seeking health care. You can read more about this struggle to remain therapeutic in these blog posts:
How to Work with Inmate-Patients: Be Alert for the Con
Legal Risk and the Correctional Nurse
Did you know there are three ways to listen to Correctional Nursing Today? You can subscribe on iTunes or use the podcast app Stitcher or click on the podcast tab on the correctionalnurse.net blog and listen using the player at the top of the post about the episode. Take us with you on your commute to work, while walking, or while picking up around the house.