As nurses, we can never have too many reminders to chart carefully. Correctional nurses should be on even higher alert. Thus, I would like to share some charting tips for correctional nurses. The litigious nature of our practice environment means we have high likelihood of having our documentation scrutinized due to a legal claim. Yet, the day in and day out nature of our work can lull us into complacency about what and how much we chart about the care we deliver. Spend some time this week considering your documentation and make a deal with yourself to step up the level for your own protection, as well as improved communication among care team members.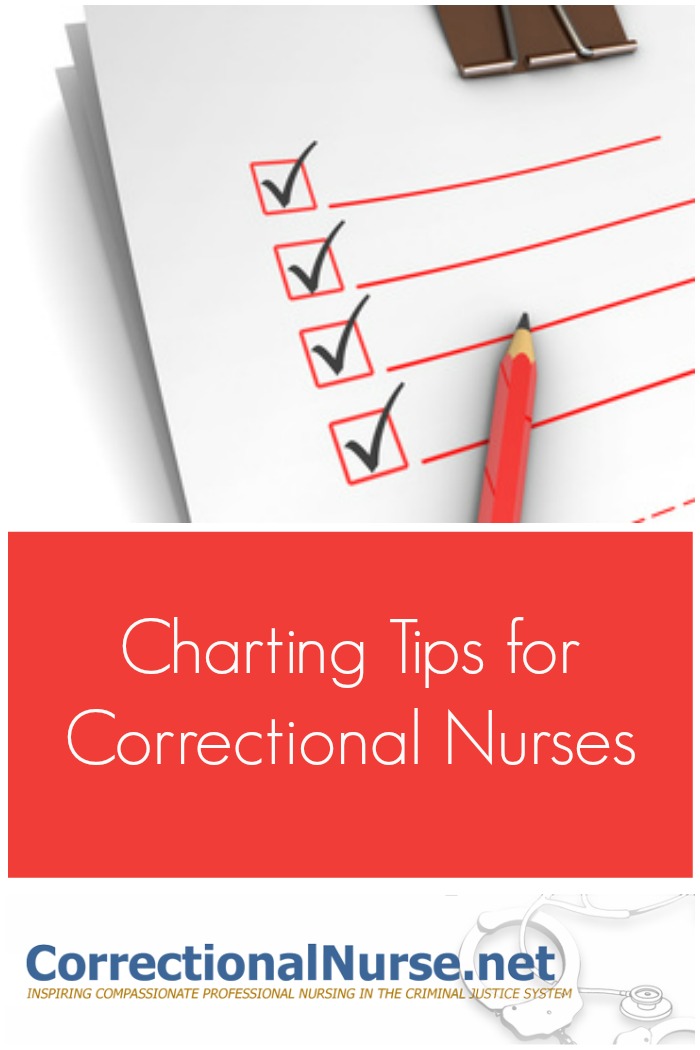 Charting Tips for Correctional Nurses
As a risk consultant, I review a lot of correctional healthcare documentation. Here are some pointers from my experience reviewing jail and prison medical charts.
Complete forms – all sections: If a standard form is used, be sure to fill in all the sections or indicate why the section is blank (patient refused).
If a protocol is initiated, indicate the reason to start and the reason to stop. For example: CIWA-Ar evaluations for alcohol withdrawal are started on a patient. Documentation ends abruptly after 4 scores when patient is at 8. The protocol requires 3 sets of less than 8 before discontinuing serial evaluations.
Be objective: The medical record is not the place to document manipulation assumptions such as "I/M is a known manipulator and is probably faking symptoms". Yes, I see this more than you know!
Don't leave spaces to accommodate a late entry by another nurse. There should be a procedure for late entries. The medical record is a legal document and should be continuous without spaces.
Write clearly: I know this is a given, but so many do not write clearly and this negates both the communication and legal support the written record provides.
Special Tips for EMR Documentation
Some correctional nurses are fortunate to have an electronic medical record (EMR). Although the digital record eliminates handwriting pitfalls there are other challenges to good documentation in an electronic record.
Many EMR systems allow for template documentation and checklist opting in of positive findings. If you are not fully familiar with the program functionality you may place auto-text into the legal record that was unintended. Be sure to review what was 'written' before you press the signature/accept key.
Reams of auto-text can obscure the important information you need when reviewing a chart for past assessments and interventions. Learn the shortcuts to finding the information you need to deliver care.
Be sure you understand how to correct an electronic medical record documentation. Usually there is an easy process prior to signature. After signature, revisions can be tricky.
Attention to documentation will improve communication and reduce your legal risk. What additional tips do you have to share?
Photo Credit: © Maxim_Kazmin – Fotolia.com
If you like this post, you might like
5 Ways Correctional Nurses Can Land in Court