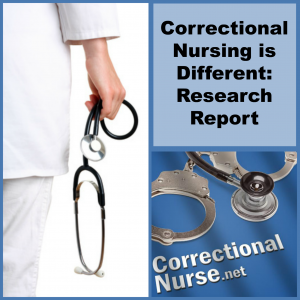 Recent research on correctional nursing in Montana, published in the Journal of Correctional Health Care has some interesting things to tell us about the unique issues of correctional nursing practice. This survey research aimed to shed light on the differences in the practice of correctional nurses compared to traditional nursing specialties as well as explore scope of practice boundaries. Study findings confirm prior research and extend our information about professional nursing practice in jails and prisons.
Key Findings
Subordination of Health Care: Correctional nurses must practice within a security environment where safety is priority. Some respondents expressed their need to be ever mindful of being a nurse and not a correctional officer in daily situations.
Setting Boundaries: Professional boundaries are of particular importance in dealing with inmate-patients who may try to cross these lines though manipulative or sociopathic behaviors.
Primacy of Assessment: Correctional nursing requires excellent assessment skills with the expanded need to validate patient symptoms focused on finding the truth. Unlike other care settings, patients may enhance or create symptoms for secondary gain purposes.
Public Stigma: As with other correctional nursing research, this study validated a continuing public stigma of correctional nursing (See previous post "Are Correctional Nurses Outcasts?"). Opinion continues that nurses work in corrections because they are ill equipped or unable to work in traditional health care settings.
Tricky Scope of Practice Issues: Half the survey respondents reported instances of out-of-scope practices, often due to lack of direct access to providers. Although some were appreciative of the increased nurse autonomy of correctional practice, others felt pressure to function above their licensure. This may be particularly acute in the rural settings of the Montana Prison System.
Conclusions
The researchers had several conclusions to offer from analysis of the research findings. These conclusions add to the continuing dialog of correctional nursing practice issues.
Correctional nurses struggle to provide care within the culture of custody. In an environment where safety precautions can outweigh care delivery, nurses are challenged with maintaining a caring nurse-patient relationship.
The correctional nursing profession could benefit from a marketing plan that dispels myths of an unsafe work environment and inadequate work quality.
Nurses who value an autonomous practice with advanced assessment opportunities are likely to find a good fit in the correctional nursing specialty.
Do the findings of this survey of Montana correctional nurses resonate with you? Have you found the survey themes to be true in our practice experience? Share your thoughts in the comments section of this post.
Photo Credit: © koszivu – Fotolia.com