The CDC has declared March "Brain Injury Awareness Month".  Traumatic Brain Injury (TBI) and its effects are common in the inmate population. Although an estimated 2% of the general population has sustained a TBI with continuing disability, a meta-analysis of studies in the inmate population indicates a prevalence of over 60% .
This condition can be caused by assault, falls, motor vehicle crashes and military duty blasts. This means that high numbers of our patient population who have been victims of physical abuse or part of a violent lifestyle are prone to this condition.
TBI can lead to depression, anxiety, anger issues, and substance abuse. It can also predispose to seizure disorders, Alzheimer's, and Parkinson's diseases.
The long-term effects of TBI are memory problems, inability to focus, and poor impulse control. Inmates with this condition may respond in anger, aggression or verbal disrespect to cover for their deficits.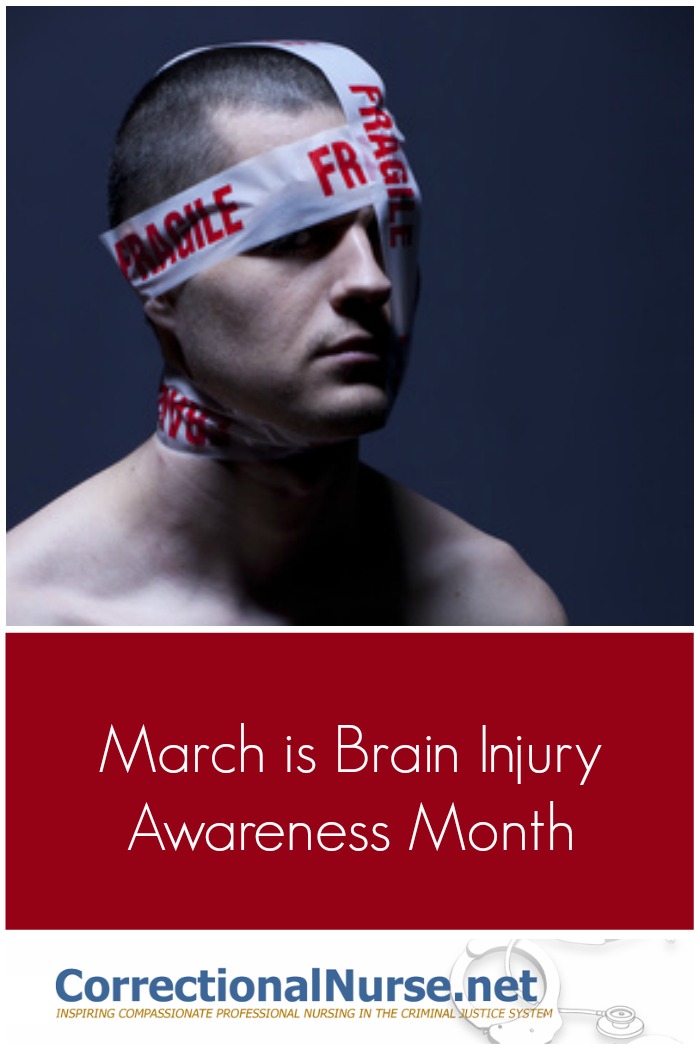 This means that our patients with TBI often show these behaviors:
• Act out in anger or irritation
• Forget rules of prohibited conduct
• Not remembering where they should be or by when
• Forgetting that they cannot go into certain areas
• Increased behavioral infractions
Watch for these signs of TBI in your patient population:
• Memory deficits
• Pain and headache
• Difficulty concentrating
TBI treatment focuses on symptom management and compensation for cognitive deficits. A careful intake history is an important first step to diagnosing TBI and managing symptoms. The CDC recommends that special attention be given to impulsive behaviors, violence potential, sexual behavior and suicide risk if the inmate is depressed.
Does your facility monitor TBI in the patient population? Tell us about your efforts in the comment section of this post.
Photo Credit: © drx – Fotolia.com
If you like this post, you might like:
Correctional Nurse Clinical Update: Cellulitis
Seizure Disorder Primer for Correctional Nurses
Diabetes Primer for the Correctional Nurse
When Prison is an End-of-Life Sentence: Hospice in Corrections
Correctional Nursing Alert: Ectopic Pregnancy