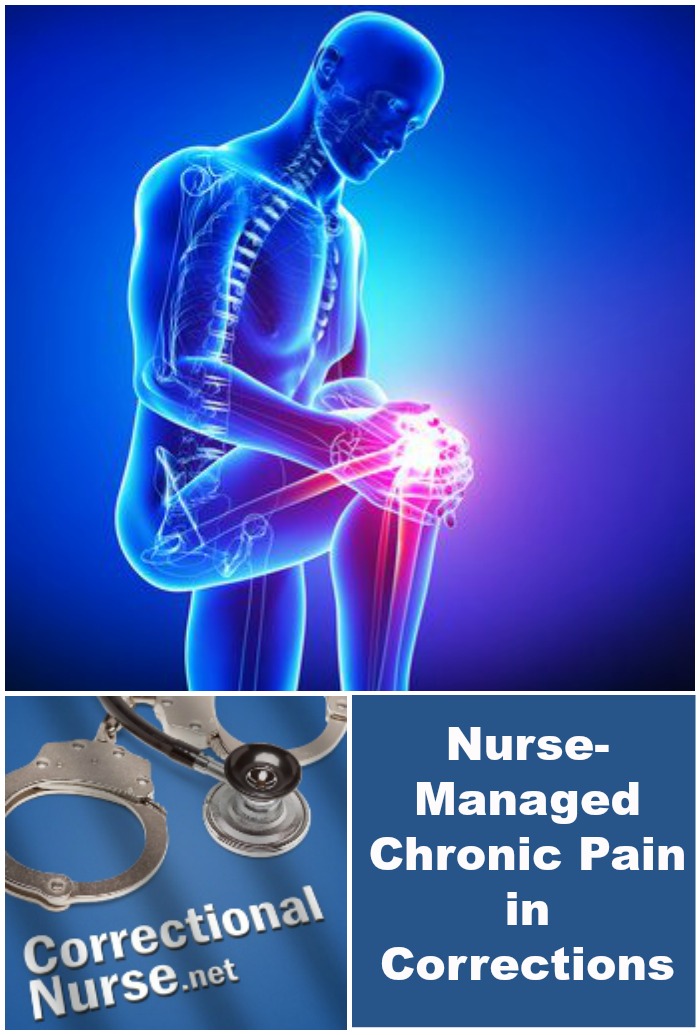 Maybe you don't consider pain management a nursing issue; other than being sure ordered medications is administered in a timely manner. Actually, "Pain management is considered an essential responsibility for nurses…" according to the Institute of Medicine (IOM)'s  2011 report on Relieving Pain in America. Correctional nurses clearly have both a dependent and independent role in the management of pain. Many protocols on pain management in correctional settings, however, focus on the pharmacologic aspects of treatment while being silent on the use of non-pharmacologic approaches. In addition, the contribution of nursing is rarely addressed. For example, not long ago the National Commission on Correctional Health Care published a position statement on management of chronic pain in a correctional setting. Although this position statement is valuable as a basis for correctional chronic pain management it mentions neither the role of nurses nor the role of a variety of non-pharmacologic interventions.
Pain management can be a real pain for correctional nurses for several reasons. First off, so many of our patients are in pain; whether it is back pain, joint pain or an arthritic condition. Their living conditions are not comfortable – beds are hard and housing units are cold or humid. Because so many of our patients have substance abuse histories, care providers can be wary of pain complaints and can easily disregard requests as 'drug seeking behaviors'. In some ways, this might be true and reasonable. Our patient population is likely to have self-medicated their pain through alcohol and drugs that are withdrawn on intake into the facility. Without the numbing effects of these substances, inmates must deal with a fresh experience of pain that had been regularly blunted before incarceration.
As challenging as it is, nurses can make a great difference in pain control through several evidence-based and non-pharmacologic interventions. Non-pharmacologic interventions should be considered adjunctive to pharmacologic pain treatment. These interventions are not costly so they can be incorporated into the toolkit of even the slimmest of budgets.
The Institute for Clinical Systems Improvement recommendations suggest that complimentary non-pharmacologic interventions be used to decrease pain through improved sleep, increased physical activity and stress management.
Exercise
Physical activity can improve psychological well-being, improve mood, and increase strength and flexibility. Encouraging and facilitating exercise can be a part of every nursing intervention with patients having chronic pain. I talk about the improved survival benefits of regular low-level exercise in a prior post. Specific benefits for musculoskeletal pain are confirmed by evidence reviews in the Cochrane Library. Evidence supports supervised exercise to improve adherence. Consider ways to encourage group exercise at your facility.
Relaxation
Incarceration is stressful. Learning and using relaxation techniques such as guided imagery and music therapy can help. Relaxation interventions can potentiate pain management therapies. I talk in more detail about using music for relaxation in a prior post. A Cochrane Systematic Review found music to be effective in reducing pain in conjunction with other therapies.
Cognitive Behavioral Strategies (CBT)
CBT seeks to engage the patient in dialog about their thinking and perspective on their pain. Although most nurses are not trained therapists, the principles of CBT can be applied in most nurse-patient interactions. Key components of CBT for pain management include understanding that how we think affects how we feel pain and pain coping skills such as distraction techniques and using a focal point. Recent research indicates that CBT is effective for long-term pain but can also last for up to 3 years.
Are you using non-pharmacologic nursing interventions to manage pain in your patient population? Share your experiences in the comments section of this post.
Some information for this blog post comes from a session on Chronic Pain Management presented by Catherine Knox, MN, RN, CCHP-RN, author of Chapter 13 Pain Management in Essentials of Correctional Nursing available on Amazon.
Photo Credit: © pixologic – Fotolia.com