The statistics on prison rape are shocking.  According to the 2013 Department of Justice study, 4% of all state and federal inmates experienced at least one incident of sexual victimization. That is nearly 1 in 20 inmates. My first reaction to the information was to assume this was inmate on inmate victimization, but this is only part of it. More assault is reported involving facility staff (2.4%) than inmate perpetrators (2%). How are you responding to inmate sexual assault and prison rape?
The Prison Rape Elimination Act (PREA) was passed by the US Congress in 2003 and legislates actions to be taken by corrections personnel to prevent and respond to sexual assaults. PREA also established a Commission to monitor the process of preventing rape in the country's jails and prisons. How can correctional nurses respond?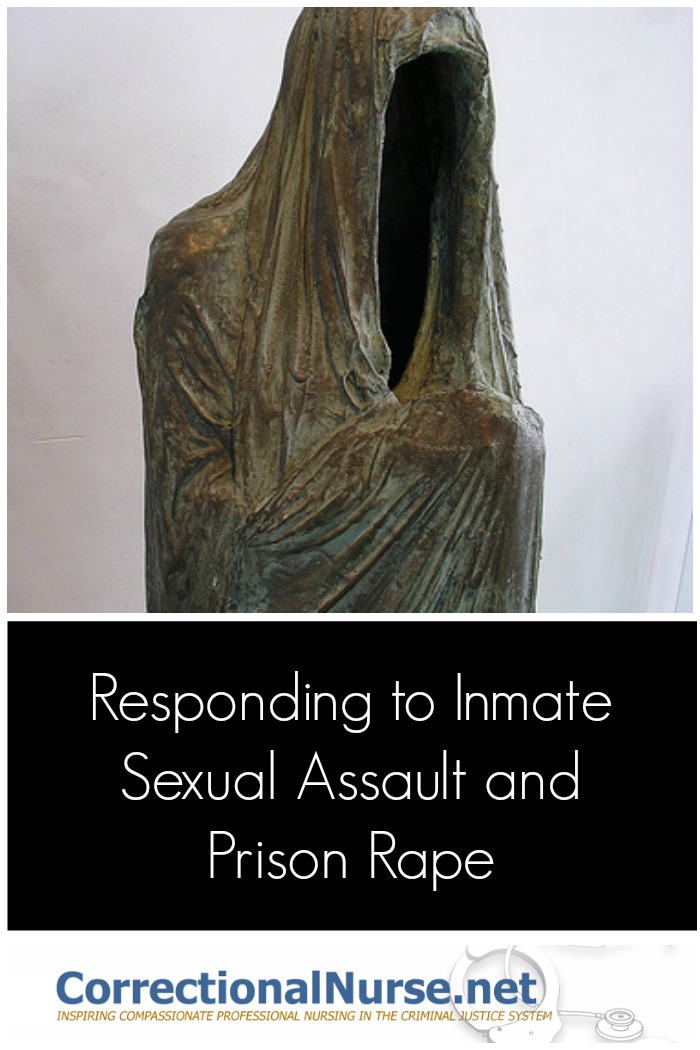 What is Considered Prison Rape?
Any unwanted sexual contact between inmates is considered prison rape. This can include fondling of genitalia or even instilling fear of rape. It does not necessarily have to be full penetration and does not require force to be defined as prison rape.
There is an even higher standard for staff on inmate sexual contact. ANY sexual contact between a staff and inmate – even if consensual – is considered prison rape and can be prosecuted. Be clear for yourself and your work-mates – there is NO permissible level of sexual contact with an inmate. Staff members have been prosecuted and sentenced for writing sexually explicit letters to inmates. A recent example of progression into illegal sexual contact is described in this article.
Who is a Likely Rape Candidate?
As you might expect, studies confirm that the likely inmate sexual assault victim is young, a first time offender, and of small build. In fact, juveniles in adult prisons have a 5 times higher chance of being a rape victim. If you have juveniles in your facility, keep this in mind when you are providing care. Be on the look-out for indications of having been assaulted. Some prisons automatically take protective actions for any juveniles who have received adult sentencing. This is also true for transgender, mentally ill, or developmentally disabled inmates. Be alert when assessing and evaluating any of these categories of inmates.
Impacting Healthcare
Every one of our inmate-patients is at risk for sexual assault or rape and may seek medical treatment for it. We need to be alert to the possibility and ready to respond.  Here are a few clinical situations to consider
An inmate arrives in sick call with a vague complaint – she is depressed, nauseous, agitated, or exhibit other traumatic stress responses
While working in the segregation unit, you see a generally compliant inmate break rules toward the end of his seg stay, seemingly intent on extending his time
A young inmate begins covering himself with feces. After mental health evaluation it is discovered that he uses this as a protective mechanism against repeated rapes by his cell mate
Responding to Inmate Sexual Assault and Prison Rape
Be familiar with your DOC procedures before you are confronted with a sexual assault situation. That way you will know what mechanisms to put into action. For example, you may need to inform the shift commander. Many places have a sexual assault response team consisting of a mental health provider, law enforcement professional and medical provider.
Document clearly the statements made by the individual.  Allow them to vent without moving into investigative mode and asking questions. Asking questions too early may cause a victim to retreat and close down.
Arrange for a sexual assault evaluation, including a rape kit if the report is within 96 hours of the assault. A specially trained individual should perform this function as forensic evidence will be obtained. In some facilities arrangements must be made to send the inmate-patient out to a hospital emergency room for this procedure.
Arrange frequent mental health follow-up for post traumatic stress responses.
Unfortunately, not all healthcare staff, correctional officers or administrative staff consider sexual assault an important issue. You may encounter conflict in your attempts to advocate for the victim. Be reminded, and remind your corrections colleagues, that being aware of the situation and not responding is both unconstitutional  (Eighth Amendment) and illegal (PREA). In addition, as nurses, we have a moral obligation to act in a rape situation. Sexual assault is not a part of the punishment. We need to respond compassionately as any prudent nurse would in a community situation.
Have you have an experience with a prison rape situation? Share your story in the comments section.
If you like this post, you will need to check:
Confidentiality, HIPAA and the Correctional Nurse
A Salute to Our Veterans: Even Those Behind Bars
Failure to Rescue and Nursing Vigilance in Corrections
Unhealthy Inmate Relationships: 5 Danger Signs
Can Correctional Nurses Care? – Part I