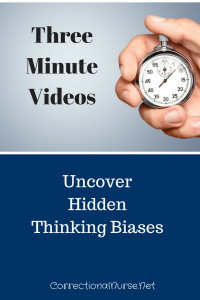 I was raised on Agatha Christie and Arthur Conan Doyle novels and still find shows like Elementary and Sherlock captivating. In fact, it is the detective work inherent in health care assessment and diagnosis that drew me to this profession and still keeps me interested some three decades later. Oh, for the clarity of mind of Hercules Poirot and Sherlock Holmes when tracking down the cause of a patient's erratic behavior or unexplainable loss of function!
Unlike these fictional characters, though, we mere humans can be burdened by unconscious biases of thought that cloud our judgment and send us toward wrong conclusions. Improving clinical judgment, then, involves intentionally looking for and rooting out these mental biases in our evaluative practices. Here are three especially challenging mental biases to eradicate from your diagnostic practices.
Watch this three-minute video to help you think more clearly.
This is "3 Minute Video: Hidden Thinking Biases" by Lorry Schoenly, PhD, RN, CCHP-RN on Vimeo, the home for high quality videos and the people who love them.
Availability Bias
Let's say an older female inmate comes to sick call feeling achy and nauseous. The jail is currently dealing with a bout of norovirus with one housing unit already quarantined.
Availability bias kicks in if you decide that this patient likely has the virus, as well, and increased fluids and Tylenol is ordered. Availability bias clouds judgment with the most recently recalled events.
Premature Closure
If you rely too heavily on the initial presentation of nausea and body ache rather than completing a full assessment you would miss the fact that this patient is having a 'heartburn-like' chest discomfort and has been occasionally short of breath in the last few hours. This is called premature closure; a bias that relies too heavily on initial impressions rather than seeking out all the information.
Confirmation Bias
Diagnostic error continues when you ask only questions that would confirm your initial norovirus diagnosis. Asking about vomiting and diarrhea might, indeed, lead to a re-evaluation on your conclusions, but not if you only pay attention to information that confirms your original diagnosis and disregard information that doesn't fit your early conclusions.
In this case, availability bias, premature closure, and confirmation bias derailed the situation and the early signs of a myocardial infarction were missed.
Clinical evaluation is a highly specialized skill that can easily be derailed by hidden mental biases. Intentionally rooting out mental biases in our assessment and diagnosis practices can avoid error and improve patient outcomes. So, be sure to ask yourself regularly: Am I thinking clearly?
Do you have an experience with cognitive bias in your practice? Share your thoughts in the comments section of this post.
You may like these other posts:
Best Practices for Correctional Nurse Critical Thinking
Five Reasons Correctional Nurses Need Clinical Judgment Skill