The recent Supreme Court decision on mandatory life sentencing for juveniles is a reminder to all of us that there are youth with special needs in our adult prison populations. In fact, you may have more youth in your inmate patient population than you think. A study done by researchers at the University of Texas, Austin found that 22 states and the District of Columbia allow children as young as 7 to be tried as adults and then imprisoned in adult facilities. In addition, depending on the size of the county jail system, youth may be detained in adult jails awaiting arraignment. Although it is difficult to determine the number of juveniles inmates held in adult facilities for a number of reasons, this same study reported that in a single day in 2008 there were almost 7,000 children under age 18 being held in local jails and another 3,650 confined in adult state prisons. This is a shocking number to consider. Do you know the youth in your facility and their key health needs? Here is my list of top health issues in priority of importance (to me) regarding the juvenile inmates in Adult Prisons.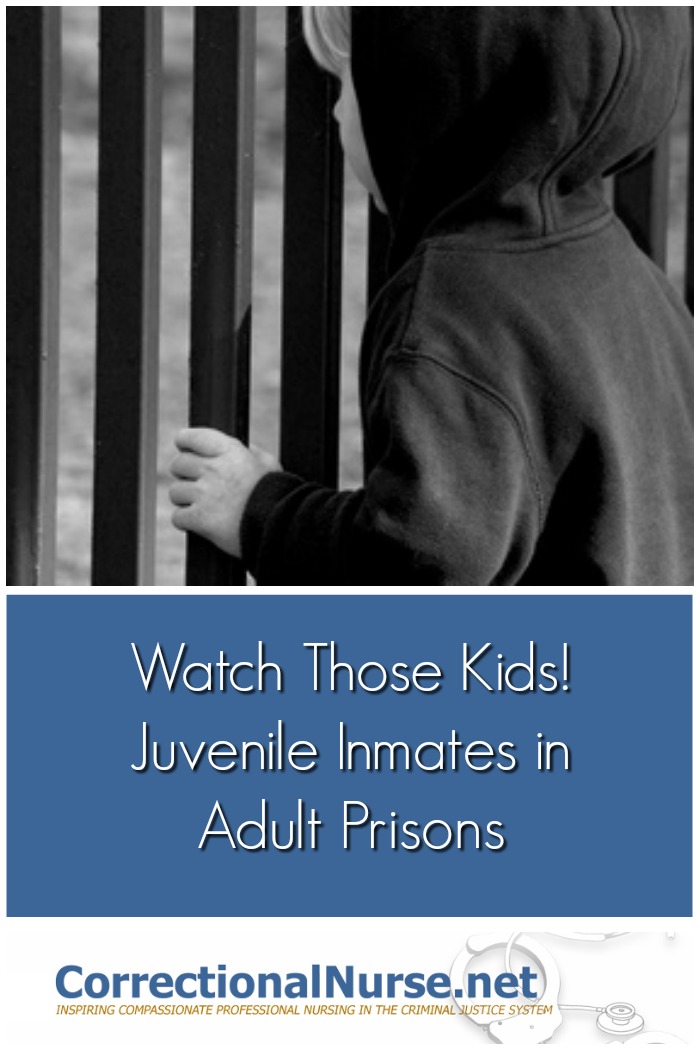 Top Health Issues for Youth in Adult Facilities
• Victimization: Youth are at greater risk for physical and sexual assault in an adult prison. As nurses we have opportunity to advocate for added protection for youth in an adult facility. By gaining rapport with your young patient, you are more likely to hear if they are at risk in a particular situation.
• Suicide and Self Harm: Juveniles are at high risk for suicide while in confinement. They are also prone to self-harm such as cutting and burning. Look for indications of suicide intent and self-harming with any health care encounter. Assist them in getting the help and counseling they need.
• Asthma: Asthma is the most common serious chronic condition for youth. The condition can be exacerbated by the stress of confinement and environmental triggers such as dust mites, molds, cockroaches and second hand smoke. Clinical Guidelines for Adolescent Asthma Management were recently published by the National Commission on Correctional Health Care.
• Pregnancy Management: A pregnant youth is at high risk for complications, even more so if they are lacking good nutrition and prior medical management. Adolescent pregnancy can be complicated by high rates of anemia, pre-eclampsia and pregnancy psychoses.
• Disordered Eating: Body image issues in this age group can lead to disordered eating such as anorexia or bulimia. These conditions are discussed in a prior post. Be especially watchful for signs of disordered eating in the adolescents in your patient population.
• Nutrition: Adolescents is a time of great nutritional need for normal growth and development. Yet, correctional facilities are often short on lean proteins, dairy products and fresh fruits and vegetables. Help your patients learn to make good food choices and advocate for healthy options in the canteen and commissary.
• Oral Piercings: Piercings are popular in youth and can lead to bacterial infection, pain, swelling, and difficulty swallowing or speaking. Oral jewelry must be documented and removed at the time of intake. Look for indicators of oral piercings during health screenings.
What concerns do you have about youth in adult facilities? How do you treat them differently in your nursing practice? Share your thoughts with the CorrectionalNurse.Net community.
Photo Credit: © kasias91 – Fotolia.com
If you like this post, you might like:
Correctional Nurse Challenge: Monitoring Medication Effects
Are You Thinking Clearly? Rooting Out Biases in Clinical Evaluations
You Are A Courageous Nurse!
Botulism and Prison Brew
Eight Ways to Improve Clinical Judgment