Twenty-five-year-old Joanie found out she was pregnant during routine screening on intake to the city jail. She had been picked up during a street sweep over the New Year's holiday. A series of poor decisions and an addiction to cocaine that she couldn't shake had landed her on the street, sleeping rough, and getting by sleeping at the local shelter, doing odd jobs, and some occasional prostitution. She hadn't noticed any pregnancy symptoms but was starting to feel anxious and irritable since she had been drug-free while detained.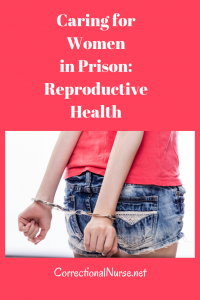 Joanie is not unlike many women in jails and prisons. She is young, sexually active, and not paying much attention to her reproductive health. Like Joanie, many women in prison have not had regular healthcare, are poorly nourished and are substance involved. The jail she entered is following the American College of Obstetricians and Gynecologists (ACOG) guidelines for the care of incarcerated women in screening all females for pregnancy at intake. This practice assures adequate attention to prenatal care and accommodation of pregnancy in medical treatment decisions while detained.
Like most women entering the criminal justice system, Joanie is of childbearing age. She is in the early stages of an unplanned pregnancy and has not been regularly practicing any contraceptive method. Incarceration is an opportunity to increase her knowledge of contraception options and organize her future choices. One study in a northeastern US jail/prison system found that female inmates were more likely to initiate birth control methods if information and medication was started before release. This is an interesting finding and indicates that correctional nurses should establish practices of educated about contraception while women are incarcerated. Unfortunately, this is not a widespread practice. For example, when I interviewed Piper Kerman about her experiences with correctional healthcare during her federal prison experience chronicled in the popular book turned Netflix series "Orange is the New Black", she said she was surprised that contraception was not discussed with her in preparation for release and she had to ask about it herself.
Joanie is also going to need counseling about her options for her newly discovered pregnancy. She has a lot to think about. If she chooses to keep the baby she is likely to have a high-risk pregnancy. Poor nutrition, lack of prior health care, and drug and alcohol abuse put many incarcerated women at risk for complications during pregnancy; as can the high prevalence of sexually transmitted infection. If she wants to terminate this pregnancy she may face roadblocks while incarcerated as many facilities do not easily accommodate this procedure.
Correctional nurses have an opportunity to improve the health of young women by attending to reproductive health needs while they are incarcerated.
What reproductive health services would Joanie have if she was entering your facility? Share your thoughts in the comments section of this post.
Find more information about women's health from these prior posts:
[The information above was originally posted on the Essentials of Correctional Nursing blog]