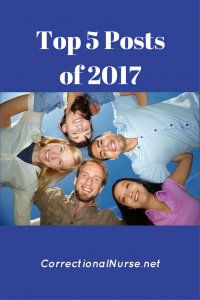 It has been another fantastic year at CorrectionalNurse.net. I am delighted to provide this informational outpost for nurses working in the challenging and often invisible correctional nursing specialty.  As 2017 draws to a close, I want to thank you for being a dedicated reader and for desiring to work with this vulnerable, marginalized patient population in the low-resourced, ethically challenging criminal justice system.
I started this blog in May of 2009 and never imagined it would still be growing after more than 8 years and nearly 500 posts. I must admit, that many times my motivation flagged and I wondered what to write about. However, comments from correctional nurses from around the country, and around the world, keep me energized and are a reminder that this service is still needed.
So, here's to a great 2017 and the adventure of the year ahead!
Let's ring in the new year with a quick look at the most popular posts of 2017.
Ten Reasons Correctional Nursing May Not Be Right for You
While I'd love more nurses to enter the specialty of correctional nursing, it is not for everyone. This post also includes some interesting reader comments. I hope you check them out.
The Correctional Nurse's Guide to Saying 'No'
Correctional nurses can meet up with some demanding patients and need to be comfortable saying 'no' to unreasonable patient requests. Here is a guide for ways to say 'No' while still helping your patients.
The Three Golden Principles for Dealing with Inmates
Nurses often come to the correctional setting with communication training based on principles of respect, empathy, and unconditional positive regard. While these principles should also be engaged in a correctional setting, they need to be tempered with "tough love" to be successful with a patient population living in an environment that can require cunning and deception for survival.
Correctional Nurses: Beware of Gifts and Favors
Providing care and treatment to patients is a nurse's work and we don't expect gifts from our patients in return, but some patients want to show appreciation. It is a natural part of working with the public. In correctional health care, accepting gifts or favors from patients can be dangerous.
At first glance, this statement that inmates don't lie seems to make no sense. Anyone who has worked with inmates gets quite used to altered truths being spoken on a routine basis. But, by the end of this post, I think you'll agree that inmates don't lie.
Do you have a favorite post from 2017? Share your thoughts in the comments section of this post.
If you like lists, you might want to see what posts were most popular in prior years: